This article provides an overview of AI Extract™and AI Train™, outlining the simple steps to activate these features.
What is AI Extract™?
Our AI Extract™ feature of the fastest and most accurate AI solutions available. It enables you to auto-extract all the key metadata and clause language from your documents and uses machine learning to match this with your existing data.
What is the benefit of using AI Extract™?
Using AI Extract™ to process and extract data from your legacy and future documents provide enormous benefits to your organisation by saving time, reducing manual work, boosting compliance and removing the data duplication issues that are normally associated with manual data entry.
How do I activate AI Extract™?
To turn on AI Extract™ functionality, navigate to the Configuration area under Settings within the left side navigation panel.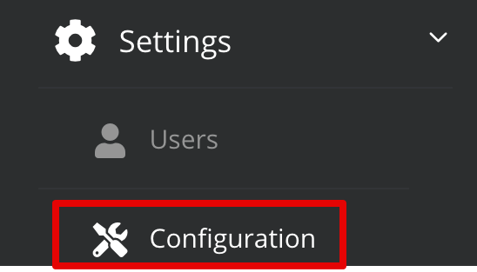 Then click on AI Layer, and toggle on the AI Extract™ feature.


Once enabled, you'll see the AI Extract menu option within the left side navigation panel.

What is AI Train™?
Within the Configuration area's AI Layer setup, you'll also see the option to leverage our AI Train™ engine to extract commonly used terms and use AI Auto-Match™ to easily identify core objects such as Entity and Contract Type. This makes the process even faster when creating new contracts through AI Extract™.
How do I use AI Train™?
To get started with AI Train™
1. click the green "ADD" button next to Entity and/or Contract Type.


2. In the field "Host" enter your standard name, e.g. for the Contract Type 'Schedule of Work' your standard name might be the acronym, 'SoW'.
3. Then enter all of the aliases of SoW into the "AI Auto-Match™ value" field
4. Select "Save" when done.
Note. during the AI Extract™ Create Contract process, further aliases can be added - we cover this off in a separate article.

When complete, your configuration of AI Train™ will include helpful terms that guide AI Extract™ in identifying the best match, streamlining the contract creation process.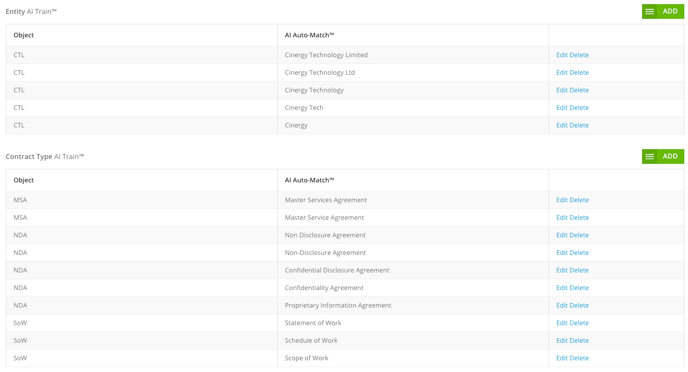 For best results when using AI Extract™, enter in your AI Auto-Match™ values before the contract creation process.
If you require further assistance, please reach out to your Customer Success Manager or engage our Global Support Team.