Details of six key enhancements designed to improve your experience working with Gatekeeper.
For this latest product update, we've been working hard to deliver a range of features requested by customers as well as keeping up momentum with the wider product roadmap.
Here, you'll see details of six key enhancements designed to improve your experience working with Gatekeeper. As well as these six, there were a further 26 smaller updates which have either fixed minor issues or will pave the way for future platform improvements.
1. New Icon for the Edit Menu
A new "Three-Dot" icon used throughout Gatekeeper to access edit functions.
What does this mean for you?
For consistency, we've adopted a new, single icon to access all edit functions across Gatekeeper.
At each level, clicking the "Three-Dot" icon will open a sub-menu of edit options relevant to the area you're currently viewing. These might include commands such as "Delete", "Clone", "Preview" or "Edit this Phase" (Workflows) for the active record.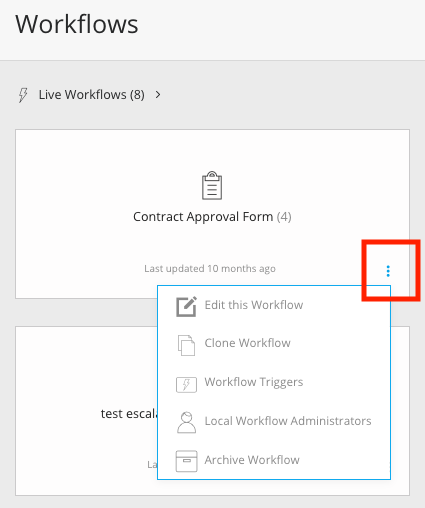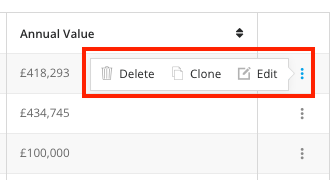 2. Rename "Team" in the Left-Hand Menu
This update has been requested by multiple customers so we're very pleased to give you the ability to rename the Team classification in the left hand menu and throughout Gatekeeper.
What does this mean for you?
This gives you the flexibility to bring your own terminology (eg. "Department") into Gatekeeper. This ensures consistency across your business, helps to familiarise users with how Gatekeeper is set up and boosts adoption.
You can edit this via Settings > Configuration > Navigation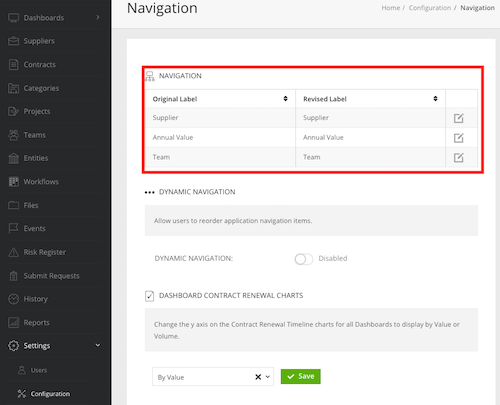 3. Change Contract Renewals Timeline to represent Volume of Contracts
Switch between volume and value for the Contract Renewals Timeline on your reporting dashboards.
What does this mean for you?
Feedback from customers has been that they would like the flexibility to see the number of contracts they have that are soon to renew, regardless of contract value.
This new feature will be particularly useful where users have contracts without a contract value (eg. NDAs)
Here is some sample contract data displayed by Value: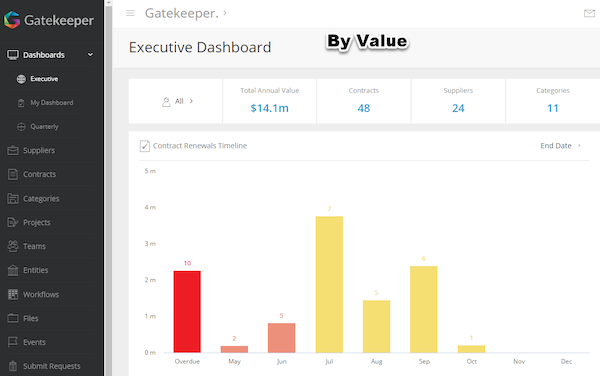 Here is the same sample data displayed by Volume: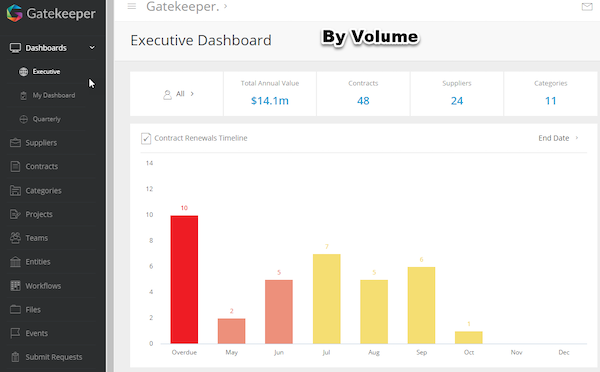 You can set your preferences via:
Settings > Configuration > Dashboard Contract Renewal Charts
4. Employee & Vendor Portals - View of Progress
A new "View More" option to give a quicker, more granular view of contract/vendor progress through a workflow.

What does this mean for you?
If you're looking for an update on the progress of a specific request, you can now access a specific phase-based view for each record.
Completed phases will be shown in green, along with the date they were completed.
The current phase will be shown in orange and will display who the record is currently sitting with.
You will still have the high-level percentage progress bar to view as well but can now access this greater level of detail at the click of a button.

5. Add Phase Instructions to Workflow Cards
The ability to include phase-level instructions within workflows.
What does this mean for you?
We'd received feedback from customers to advise that it wasn't always clear to users what actions they needed to take at each phase of a workflow. This was particularly the case for users completing an action for the first time or if they only rarely had to complete the action.
To solve this issue, specific instructions can now be displayed at each phase so that users understand what they have to do.
Not only does this help speed up the process by making it easier to complete the task first time, it also gives the flexibility to change processes and instructions with minimal disruption.
Simply add the description to the workflow phase: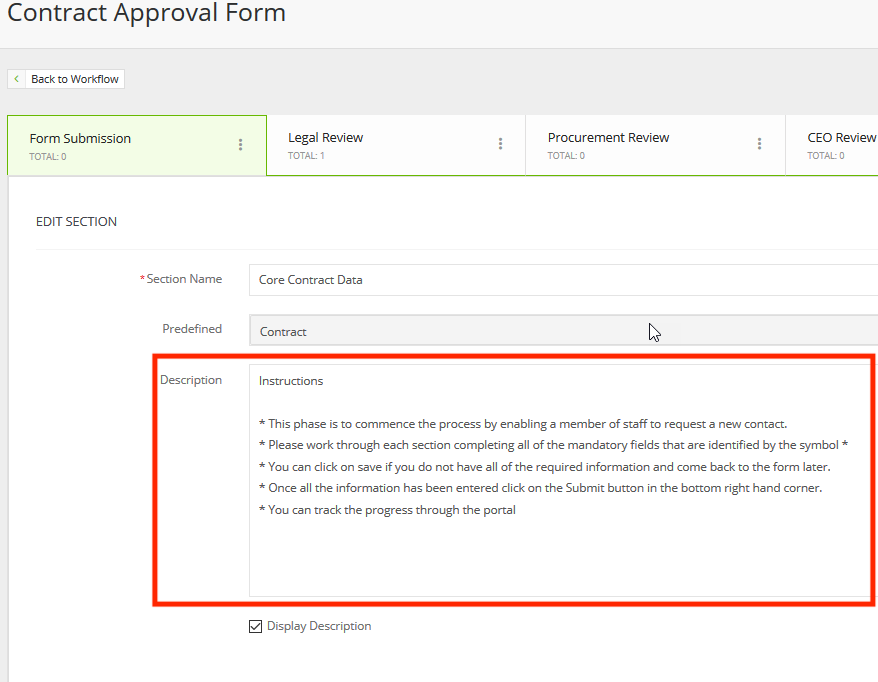 And it will display when a user accesses that phase to complete their action: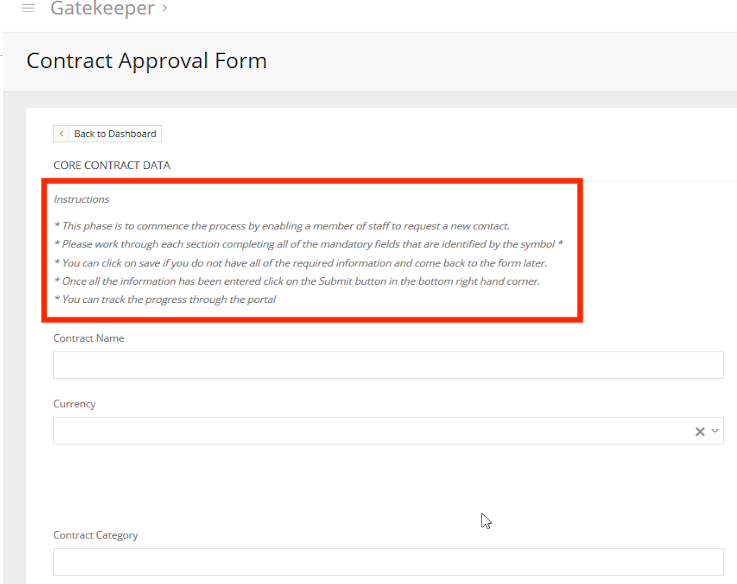 6. Knowledge Base Updated & Moved
All Knowledge Base articles have been moved to a new location, right here at:
https://knowledge.gatekeeperhq.com/docs
What does this mean for you?
All of our articles have been reviewed and moved to this new platform to make it easier to manage and maintain.
You can still access it directly from Gatekeeper via the "Help Docs" link at the top of each screen.
If you have any links to old articles saved as bookmarks or for example on your company intranet, please make sure you update these accordingly.
You can also submit support requests directly from this new Knowledge Base.
We'll be publishing product updates more regularly from now on and will be notifying customers via email and from within Gatekeeper.