This article will describe the initial steps of adding a Contract record to your repository.
In this article:
Additional Learning:
Where to add a Contract
The initial steps to creating a Contract are Contract > Add > Contract

From here, Gatekeeper will guide you through the step-by-step process of adding a contract.
You must have Administrator access rights to create a Contract directly in the repository.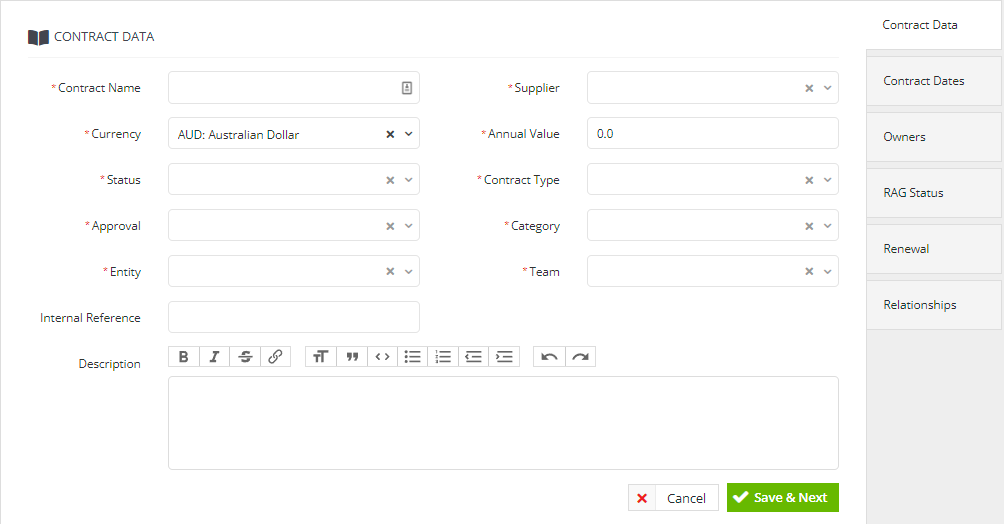 Adding the core Contract Data
Several core data fields need to be populated to create a Contract record.
Contract Name - The title of the contract (succinct yet informative)
Currency - Select from all pre-configured currencies (for adding & managing currencies, please see this article)
Status: Pipeline, Live or Archived

Pipeline - A Contract that has not yet been executed
Live - A currently Live Contract that has not surpassed its End Date
Archived - A Contract that has surpassed its End Date and is no longer required

Category: select from all available or add new in-line

The broad range of services being provided by this Contract. E.g. IT Hardware

Team: select from all available or add new in-line

The internal Team that owns this Contract

Supplier/Vendor: select from all available or add new in-line

The Supplier/Vendor that this Contract has been executed with

Annual Value: the expected annual value of the contract

The Annual Value of the Contract Record

Contract Type: select from all available or add new in-line

E.g. Master Services Agreement, Non-disclosure Agreement

Entity: select from all available or add new in-line

The internal Legal Entity that the Contract relates to
In addition, two non-mandatory fields can be populated should you wish to decorate the record with additional relevant information:
Internal Reference
Description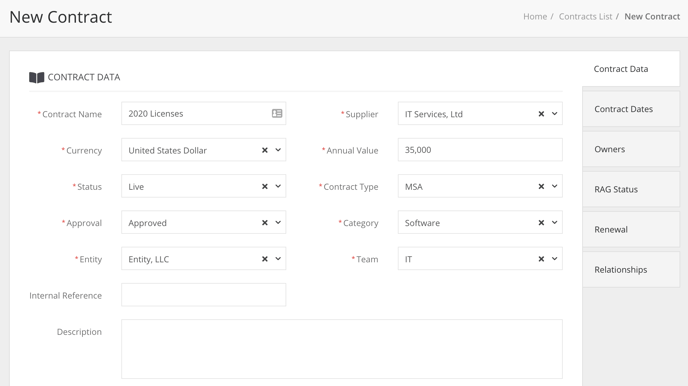 If you have already set up some Custom Data Fields, they will be made available to you to populate at this stage.
Once this data has been created, you can select Save & Next to decorate the record further.
As you create the record, or at any point, you can choose to decorate the contract record with further information.
Contract Dates
Start Date - the commencement date of the contractual agreement
End Date OR Evergreen - the expiration date of a contract OR an indication of Evergreen status, meaning the agreement does not have an expiration date
Notice Period Date OR Rolling Days Notice - the date in which notice must be provided to alter/exit the contractual agreement OR the rolling number of days needed to give notice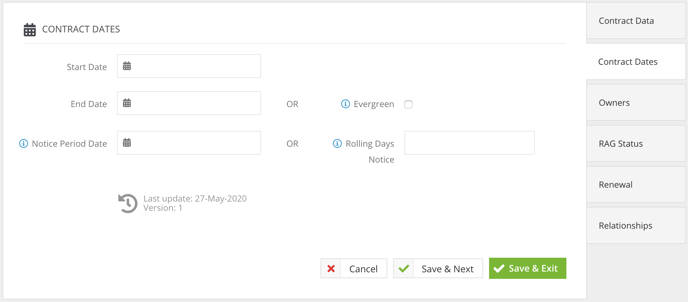 For a deeper dive into Contract Dates, please see this Knowledge Base Article
By then selecting Save & Next, you move through to Owners.
Owners
A Contract can have both internal and external owners, and these can be added and maintained here.
Internal Owner - The internal owner of the Contract within your business
Supplier/Vendor Owner - The main point of contact with the Supplier/Vendor (External)

RAG (Red, Amber, Green) Status
Apply a Red, Amber, or Green status to the contract and add a description to explain the rationale behind the decision.
This system can be used to track a Contract's performance over time.
E.g. You have a contractual agreement for goods or services to be provided by the 15th of each month. When this service is late, you can set the Contract to Amber or Red and provide a narrative. Though, the following month the goods or services may be delivered early, in which you can update the RAG status to Green and provide a narrative.

Renewal
Contracts can be auto-archived, and the owner is notified ahead of the date if required. A good use-case for Auto-Archive could be for NDA's.
For an automated process, please reach out to your CSM or AE to create a managed Workflow for dealing with Contract Renewal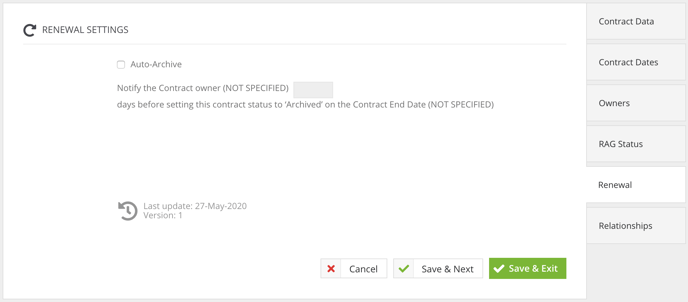 Relationships
The final tab allows you to link the Contract record you have just created to an existing Contract record within Gatekeeper with the additional options to indicate a Parent or Child relationship. Use the green "Add" button to include all relationships before clicking "Save & Exit".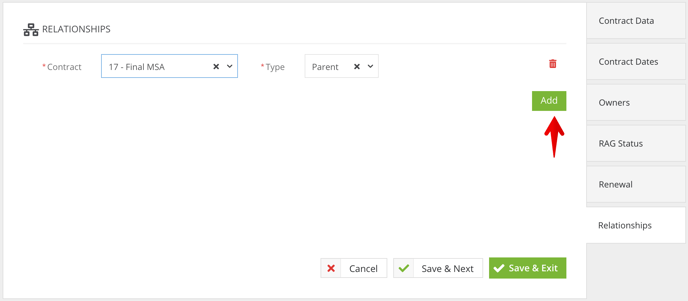 For example, a Master Services Agreement may be linked to one of many Statements of Work. The hierarchical relationships will then clearly display from the contract record's Data Tab under the "RELATIONSHIPS" heading. Any visible blue links can navigate between contract and supplier records in Gatekeeper.

Custom Data
If you have a requirement to decorate your Contract records with custom data specific to your use case and business, then read our article on how to create these fields.