This article describes the advanced Optical Character Recognition (OCR) search & analysis capabilities within Gatekeeper.
What is Global Search?
This feature is available throughout Gatekeeper and provides you with the ability to search metadata, custom field values, and essential object names. In addition, the contents of your documents are also scanned by leveraging our advanced OCR (Optical Character Recognition) technology and AI Extract™. For more information about our AI Extract™ functionality please click here.
Where is Global Search?
The Global Search box is present along the top of your Gatekeeper instance next to our Support Centre.

After typing in a search value and pressing enter on your keyboard, a pop-up window will appear to display all related results within Gatekeeper along with a confidence rating.
A confidence rating is calculated using a range of factors and is designed to help deliver the most relevant results.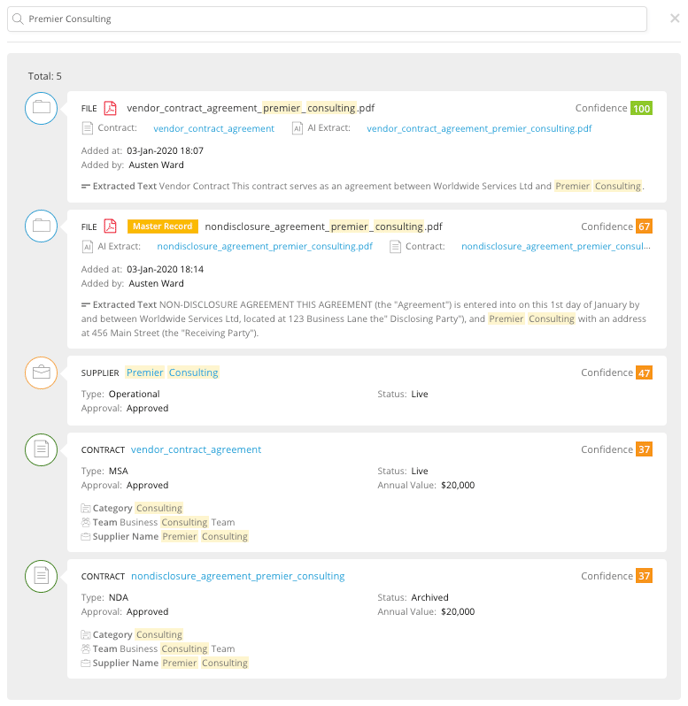 Clicking directly on one of the returned links will navigate you to the associated record or file information.
What is Included in Global Search?
Entering a term into the Global Search bar will scan the following areas of Gatekeeper:
Contract repository metadata and Custom Field values
Supplier repository metadata and Custom Field values
Record owners (e.g. Contract owner, Supplier owner)
All document text (using OCR)
All file names
File content type
Category names
Team names
Entity names
Global Search Tips
For the best search results, use complete search terms and avoid the use of slashes (e.g. in dates and URLs).
If you require further assistance, please reach out to your Customer Success Manager or engage our Global Support Team.