The Supplier Portal (or Vendor Portal) is a Supplier management solution that allows you to collaborate with your Suppliers in a secure online environment. This article describes how GK Users can invite a Supplier User to the Supplier Portal.
Click the 'Suppliers' link on the navigation menu on the left hand side of the screen.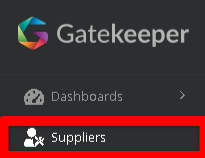 2. Open the Supplier Record relevant to the Supplier User you are wanting to add.
3. Click the green 'Add' button on the right hand side of the screen and then select 'Supplier User' from the drop down menu.
4. You will be redirected to the create a Supplier User form. You are required to add the following mandatory data to create the new Supplier User:
First Name
Last Name
Email
Role
Administrator: This Supplier user can add and edit Supplier information in the Portal for approval and manage Supplier users.
Editor: This Supplier user can upload and edit Supplier information in the Portal for approval.
Collaborator: This Supplier user can respond to Messages and complete Events assigned to them but cannot add or edit Supplier information.
You can also include the following optional data:
Job Title
Landline
Mobile
Profile Picture
5. Fill out all mandatory fields and then anything else that you feel is useful or relevant information for the new Supplier User.


5. Select whether or not you would like to send the new Supplier User an email invitation to GK.
Select the Invite into Gatekeeper option
You will now have the option to enter a custom message
Once the Supplier User has been created they will receive the below email. Included is the message you composed in the previous and also an orange Activate Account button. The new Supplier user must click this button to activate their account, they will be redirected to a GK page where they will be asked to set a password.
Once the account is activate the GK user who created an account will receive a notification email advising that the Supplier User has accepted the invitation.
The Supplier user can now login to the Supplier Portal. For more information on the Supplier Portal please follow this link.
6. Click Save to add the Supplier the user.
Note: it is possible to configure a custom Supplier Portal Invitation message. More information can be found within the article Configuring the Supplier Portal.