The latest enhancements to Gatekeeper
1. Touchless Contracts - The Power of Automation
We are proud to announce a set of improvements launching Touchless Contracts. These changes lay the foundation to enable you to automate any or all of the standardised key actions within Gatekeeper Workflows.
1a - AutoActions
We have built seven new AutoActions, which function in the same way as their manual counterparts but which trigger automatic operations when a card enters a phase with one of these Actions:
AutoAction Create Contract
AutoAction Update Contract
AutoAction Create Vendor
AutoAction Update Vendor
AutoAction Generate Draft from Contract
AutoAction Publish Contract Draft & Convert MS Word to PDF
AutoAction Send for eSign
1b - Submit Card on Completion
The first six AutoActions include the ability to automatically submit the card to the next phase after the AutoAction has been completed, allowing for seamless transitions through the workflow. The Send for eSign AutoAction will continue to obey configured Transitions.
These Actions operate independently of each other and can be activated within existing workflows. To find out more, speak to your Customer Success Manager.
1c - External Signatories Only
AutoAction Send for eSign has the ability to only send to external signatories, allowing for contracts to be pre-signed internally and executed straight away when signed externally.
When this feature is not applied, both internal and external signatures will be requested.
1d - Edit AutoAction Values
The AutoActions for Contracts and Vendors include options to update values that were omitted from the Form submission.
This means that you can set default values and fallback values to ensure the AutoAction builds records in the way that fits your existing processes. For example, the Create Contract Auto Action includes automatically assigning the Internal Contract Owner and dynamically creating contract Start Date and End Date.
1e - Touchless Contract Form submissions
This new form has been designed to be public-facing. It includes the ability to present a preview of the Contract to the form submitter before they begin adding their details. This gives the external party confidence in the automated process and provides transparency from the outset.
Vendor records are automatically built from the submitter's email address or website URL via our AI AutoBuild™ technology. The Contract object is populated with the form submitter's details via our Handlebar technology and sent to their email inbox for Counterparty signatures.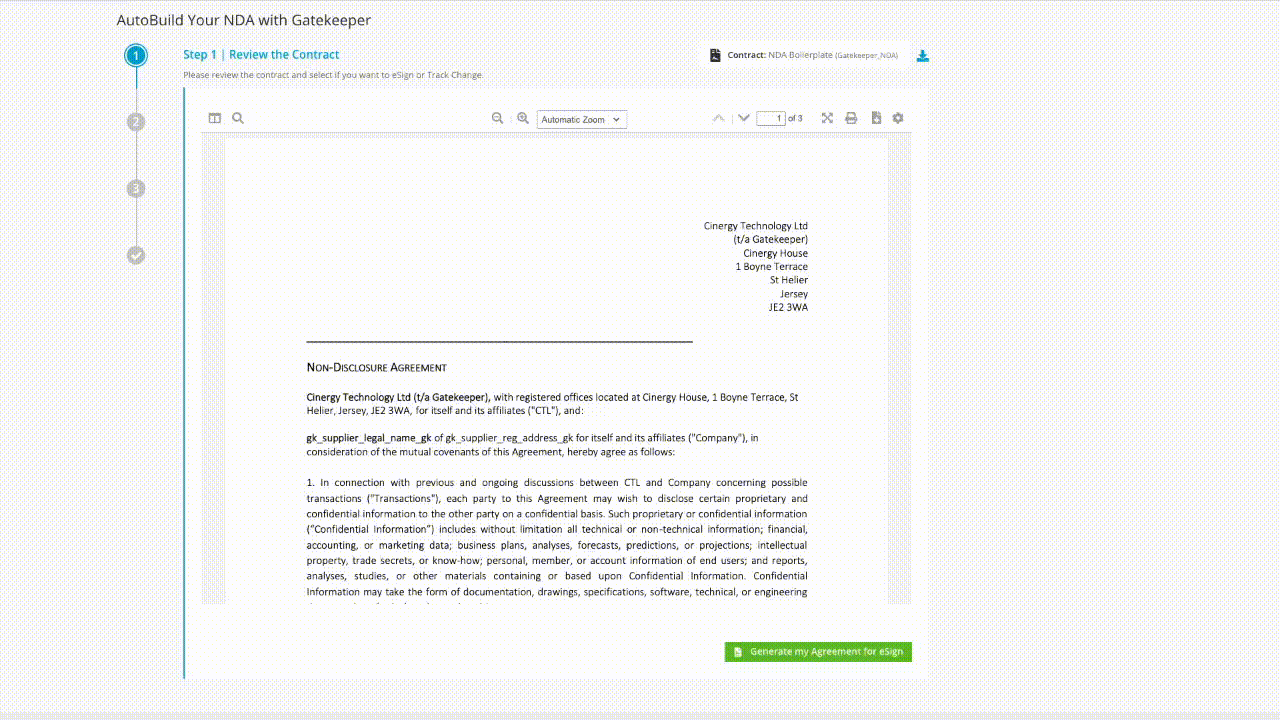 What does Touchless Contracts mean for you?
Touchless Contracts means the ability to fully or partially automate your contract or vendor processes and minimise the amount of repetitive, manual work that needs to be carried out by your internal teams.
Watch our explainer video:

Apply any or all of these new AutoActions to dramatically cut the time taken for contracts to progress through your Workflow(s).
To take advantage of these new time-saving features and to begin automating your Workflow(s) please reach out to your Customer Success Manager for more information.
2. Configurable Entity Label
We have made Entity able to be renamed.
What does this mean for you?
Gatekeeper is now even more customisable to suit your company's CLM needs. By changing the Entity label within the configuration, the field will be renamed across the application.
3. Uncheck the Master Record of a file if it was generated via an eNegotiate draft or eSign
It is now possible to uncheck the automatically generated Master Record label from a file that has been created through eNegotiate or eSign workflows.
What does this mean for you?
This gives you greater flexibility in making sure that your contract object accurately represents the correct Master Record should the correct file need uploading separately from the eNegotiate or eSign process.
4. eNegotiate Template Tile View
We have built a new eNegotiate Template Tile View in the configuration tab.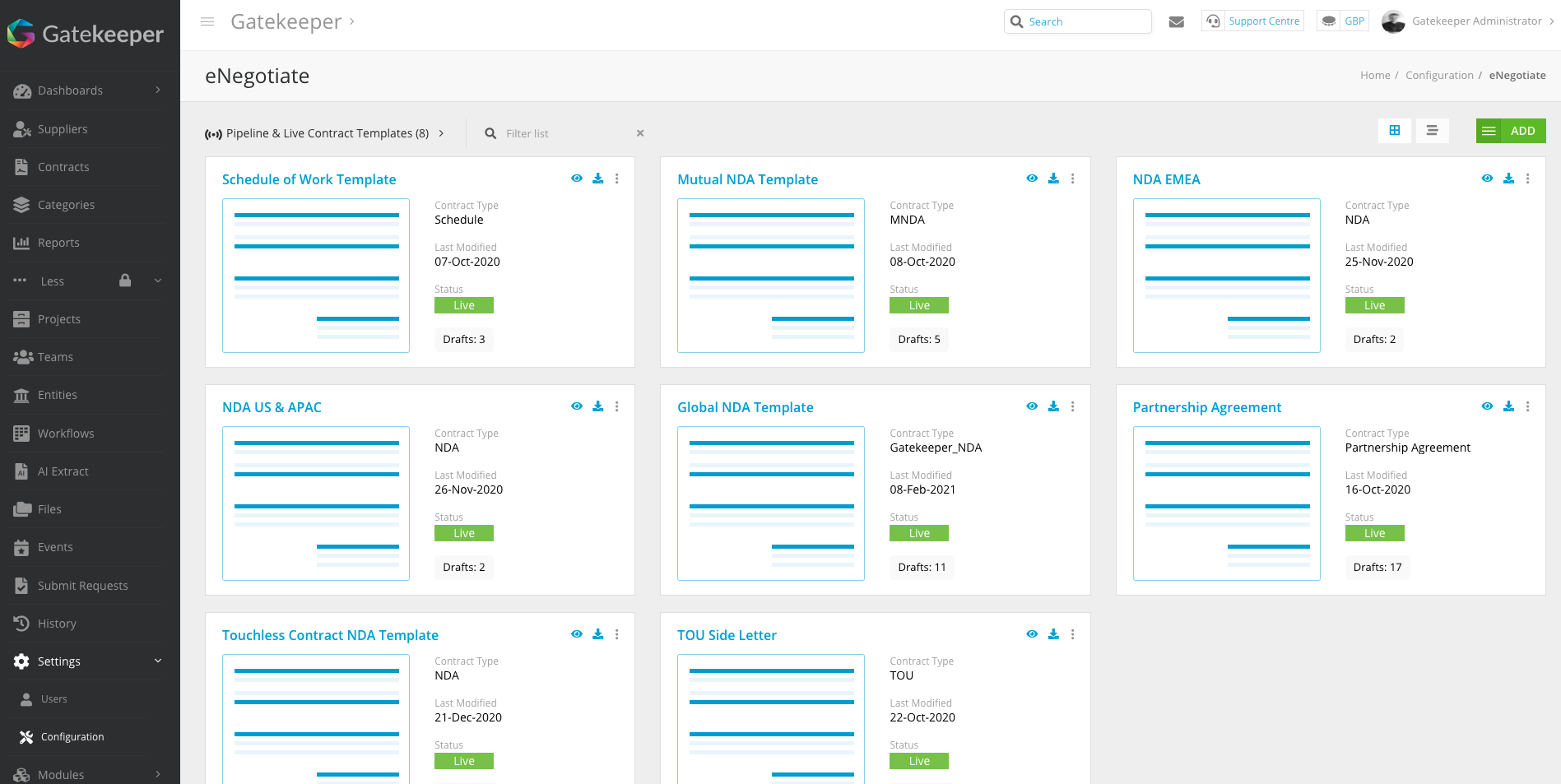 What does this mean for you?
This gives a more modern interface for your eNegotiate contract templates. The new view includes a PDF Preview button to be able to view your templates at-a-glance and the ability to create a new Contract Draft directly from the template page.
5. eSign Improvements
We have worked on a collection of small improvements to make our eSign process smoother and easier to complete for all parties involved.
5a. Title field has been renamed to Job Title
We have also introduced this field at the point of adding a New Supplier User so that it can be pre-filled for external party eSignatures. This field has been renamed across the application in order to keep coherency.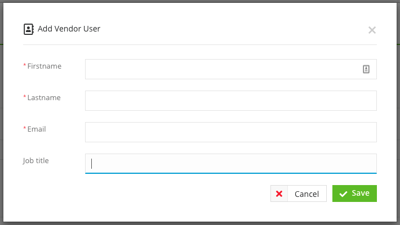 What does this mean for you?
We have removed the ambiguity around the desired entry of the title field and introduced it at the point of Vendor User creation to create a smoother eSignature process.
5b. Auto-populate the External Company field from Legal Name
During eSign, if the Legal Name of a company has been entered then we will automatically populate the Company Field with the Legal Name instead of the Trading Name.
What does this mean for you?
This has been designed to reduce any manual overwriting of company names when sending out for eSign.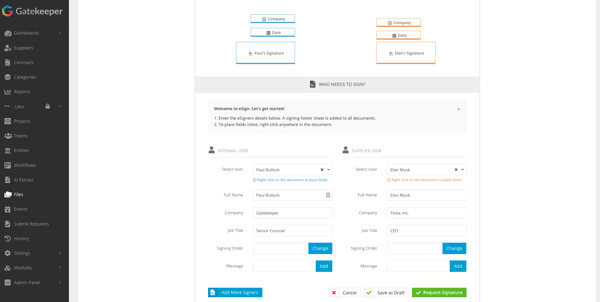 5c. Setting a Defaulting the Entity for the Internal Company field.
Within the eSign Module Configuration area, you can now set your default Entity. If you have an entity that matches the name of your Gatekeeper Instance then we have selected it for you already.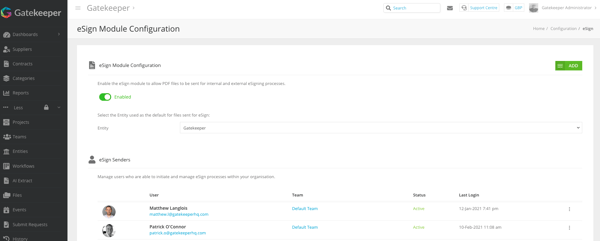 What does this mean for you?
This default entity will be automatically populated within the Company Field for internal signatories.
5d. Default to Selected Signature for eSignatories
If you have a signature saved, then the Click to Sign button will now immediately add your existing signature into the field in one click. It is still possible to edit your signature by clicking on it again after being populated.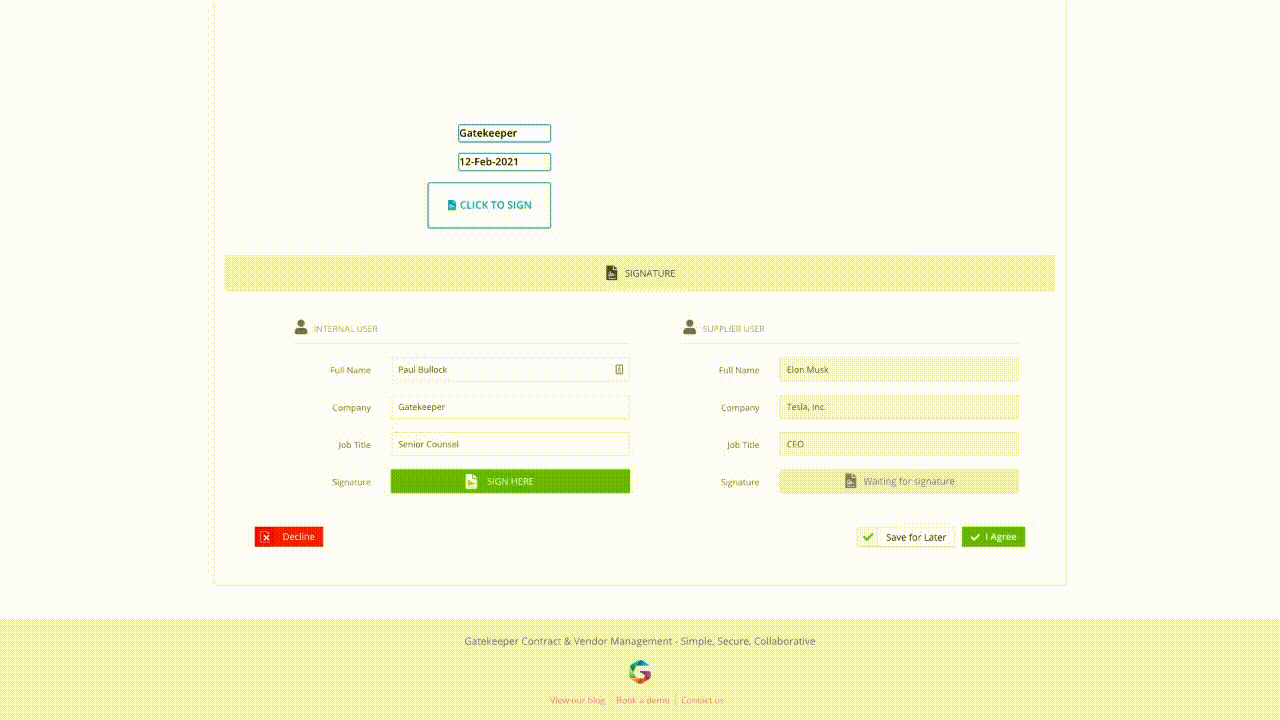 What does this mean for you?
This series of changes have been designed to maximise the efficiency of the eSign module, making eSigning a document effortless by pre-populating as many of the necessary fields as possible and reducing the amount of manual input needed to make an electronic signature with Gatekeeper.
Additional Improvements
A number of enhancements have been made:
Within the Contract Relationships area you can now search for your linked contract by GK ID as well as the Contract Name.
The Files area within the repository now has an improved Drag & Drop UI.
The eSignature 'Document was Signed' email now includes additional personalisation to make it easier to search for within your inbox. The eSign Sender's name and the document name will now be included.
We have made some Mobile layout improvements for workflow cards, there is now a 'More' tab to aid use on mobile displays. Allowing for the core tabs to be easier to tap on.
Missing Mandatory Form Fields are now highlighted as soon as the Approval or Reject buttons are clicked.
There is now highlighting on your selected field within Workflow Forms to allow easier resumption of form submissions.
Files that are entered via Custom Fields can now be marked as Master Record against a Contract Object.
For more information on these latest features, please contact your Customer Success Manager.