The latest enhancements to Gatekeeper
1. Clause Library
We are excited to release our Clause Library functionality within eNegotiate templates.
What does this mean for you?
This will enable you to insert clauses into eNegotiate contract templates via our Handlebar feature. The Clause Library will appear at the point of contract creation, depending if prior conditions were met within the eNegotiate Workflow Form submissions.
This powerful feature reduces the number of eNegotiate templates needed drastically and adds automatic customisation when creating Draft Contracts.
For more information on how to build a Clause Library through the use of Conditional Handlebars, please contact your Customer Success Manager.

2. Phase Owners Can 'Add New' Contracts & Suppliers Within Workflow Forms
We have expanded the range of features that non-Global Administrators can perform while they are the Owner of a Workflow Phase.
What does this mean for you?
It is now possible to add new Contracts, Suppliers, and Supplier Owners to the repository from within a Workflow form. This change has been designed to make Ownership of a Workflow Phase more authoritative. You can now allow users to create these objects within the Workflow Forms without needing to extend those same permissions throughout the rest of the repository.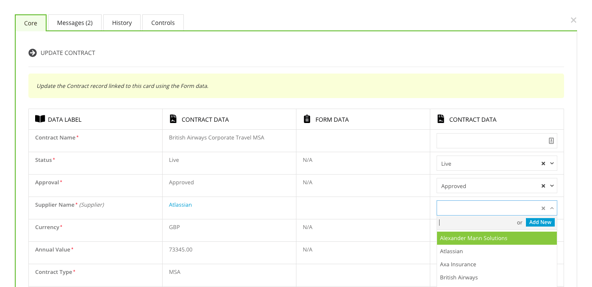 3. Cancelling an eSign Process From Within a Workflow
We have changed what happens when you cancel an eSign process that has been started from a workflow.
What does this mean for you?
You now stay on the Workflow that you were working in after hitting cancel which enables a seamless continuation of work.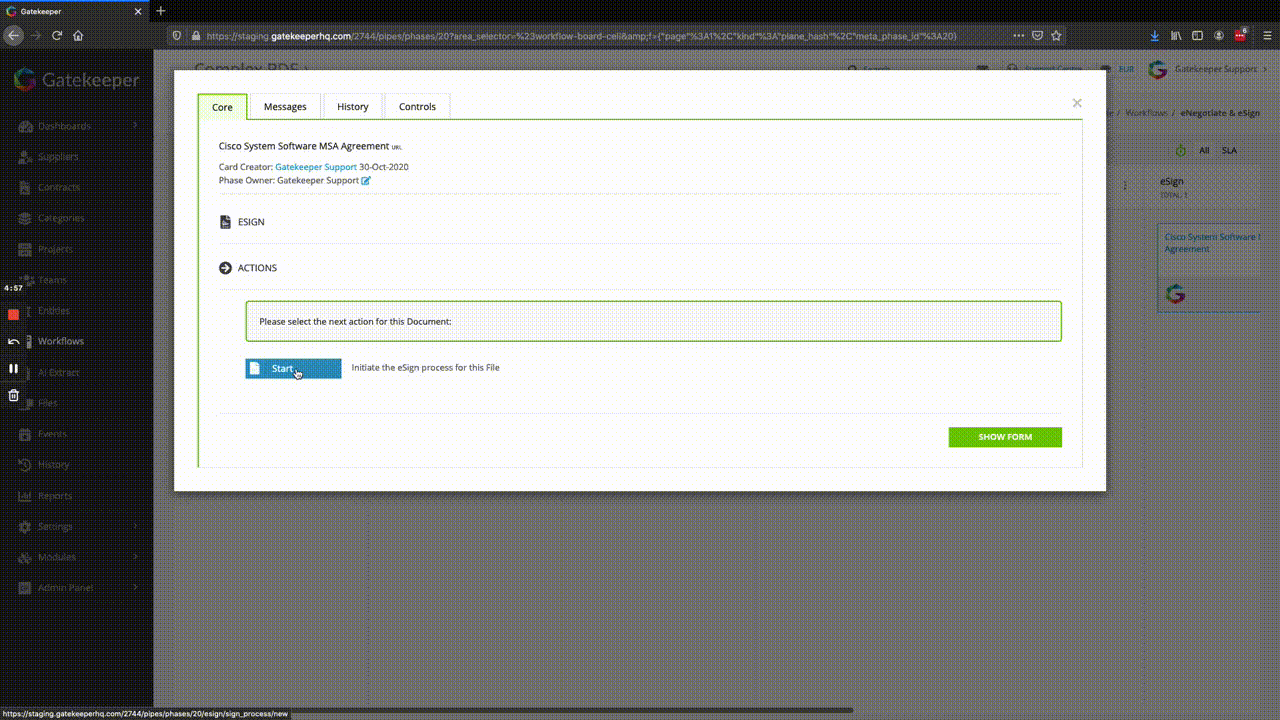 4. Create Duplicate Form Field Names in Workflows
It is now possible to have more than one field within a form share the same name.
What does this mean for you?
You can now have Workflow forms that include multiple fields with the name of 'File Upload.' You can use the same naming convention of 'Notes' within multiple review sections on the same form. This enables greater flexibility for Workflow Administrators and provides better continuity for Users filling out Workflow forms.
5. Delete Whole Form Sections Through Workflow Configuration
You no longer have to delete all of the fields within a Workflow form section before you can delete the section. Now, whole sections can be deleted using the dedicated button.
What does this mean for you?
This enables much faster reconfiguration of Workflows and increases the usability of large Workflow form sections.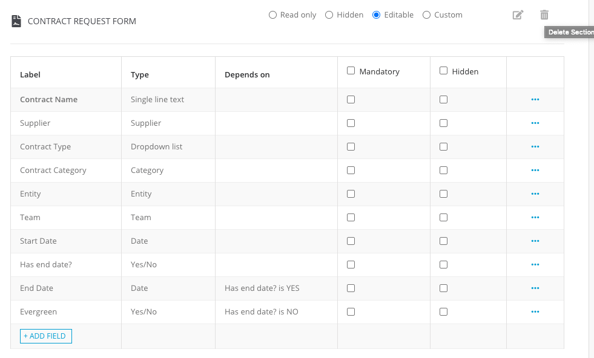 6. Any Internal User Can Be Made an eSign Sender
We have expanded who is able to initiate and manage eSign processes within your organisation to any internal user (excluding Employee Portal, Inactive, Revoked or Archived users).
What does this mean for you?
This means that eSign Senders do not have to have Administrator access.
7. The Banner On The eSign Process Has Been Updated
The banner has been made clearer on Desktop screens and we have improved the usability of the banner on mobile devices.
What does this mean for you?
It is now clearer for you to see when eSign fields still need completing or are ready to commit.


8. Contract Relationship Selectors Are Searchable Fields
Previously presented with a dropdown list showing all contracts; this is now a lookup using text entry.
What does this mean for you?
This means that you will have to enter a minimum of 2 characters in order to show contract results when building contract relationships. This significantly reduces the number of contracts being presented from the repository, allowing the field to be more responsive and speed up overall completion of the contract relationship section.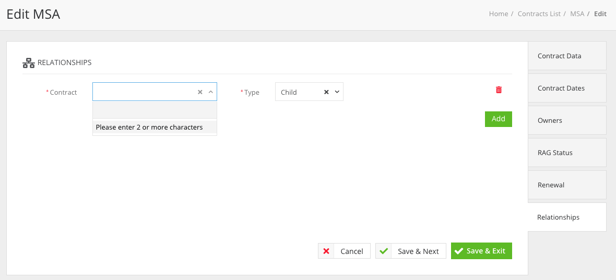 Additional UI Improvements
A number of UI enhancements have been made:
Action Dots now work on hover instead of on click, enabling faster editing across many parts of the application.
"Update Contract", "Clone Contract" & "Update Supplier" buttons in Workflows have moved position slightly to better accommodate long naming conventions.
Linked Contracts have been realigned in Workflows Cards.
We have improved the way modal boxes and tabs appear on mobile devices.
The layout of the Users List in settings has been adapted to accommodate longer naming conventions and more combinations of RBAC roles while maintaining usability.
We have removed the inactive area behind the GK bot pop-up, so that it doesn't prevent interacting with elements at the top of the page when it appears.
For more information on these latest features, please contact your Customer Success Manager.