The latest enhancements to Gatekeeper
1. Spend Visibility Improvements
The Spend Module has undergone some changes to improve the visibility of Spend entries throughout the repository. This add-on feature of Gatekeeper leverages your Accounts Payable (AP) data to compare forecast to actual spend against supplier and contract records, delivering valuable business insights. For more information on adopting this module, please contact your Customer Success Manager.
1a. Contract Spend Visibility
Spend can be forecast against a Supplier and then actualised spend can be marked against individual Contracts linked to that Supplier. It is now possible to view Spend entries directly at the contract level, as well as the existing Spend view under a supplier.
What does this mean for you?
This allows you to see the actualised spend from the Contract record without needing to navigate to the Supplier. You can now also create and amend spend entries directly from the Contract record.
1b. Configure Columns on Spend Tab
It is now possible to add, remove and reorder columns on the spend tab table.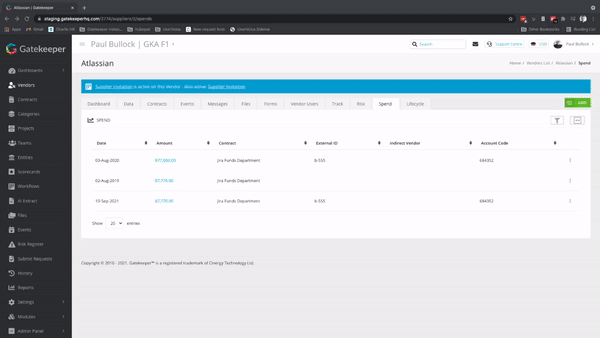 What does this mean for you?
This change enables full customisation of the visible fields for the spend table; bringing the same functionality to Spend that we have introduced to other table views throughout Gatekeeper.
1c. Filter Spend Table
It is now possible to filter Spend entries from any Spend table.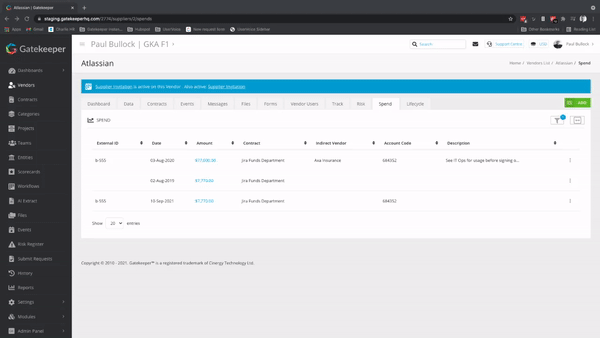 What does this mean for you?
This gives the ability to only show Spend entries that are from a specific contract, linked to a particular indirect vendor or that were created by a particular user.
1d. Contract Relationship Area
The Contract Relationships area will now show Spend data when the module is enabled.

What does this mean for you?
This area will show total spend, allowing you to easier gain understanding on spend that is split across multiple linked contracts.
1e. Spend Dashboard & Multi-Year Contracts
The Spend Dashboard will now present actualised spend against contracts greater than one year old. This means that the visualisations on the Spend Dashboard will now take into account any actualised spend on multi year contracts, even if they don't fall within current financial year.
What does this mean for you?
This means that spend can be set against multi-year contracts, preventing the need to create multiple spend entries for each financial year. This makes the actual vs forecast calculations easier to manage with long-term contract agreements.
2. Contract Date Quicklinks
We have introduced a set of quicklinks to the Contract Dates fields. These will immediately select the date 1, 2 or 3 years ahead of the date you currently have selected on the calendar input.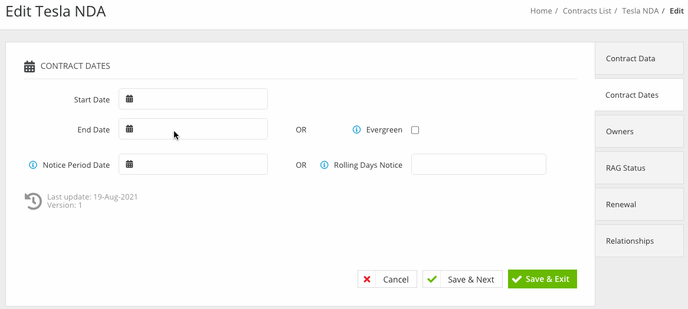 What does this mean for you?
This enables you to select Contract Durations of 12, 24 & 36 months in one click, saving you time when needing to choose the most common contract durations.
3. Workflow Card Read & Update Views
We have made the Read Only and the Edit views of workflow cards more similar in terms of appearance and layout, keeping the same shading on fields that are remain read only and adjusting spacing so that the two views remain as uniform as possible when you are switching from one to the other.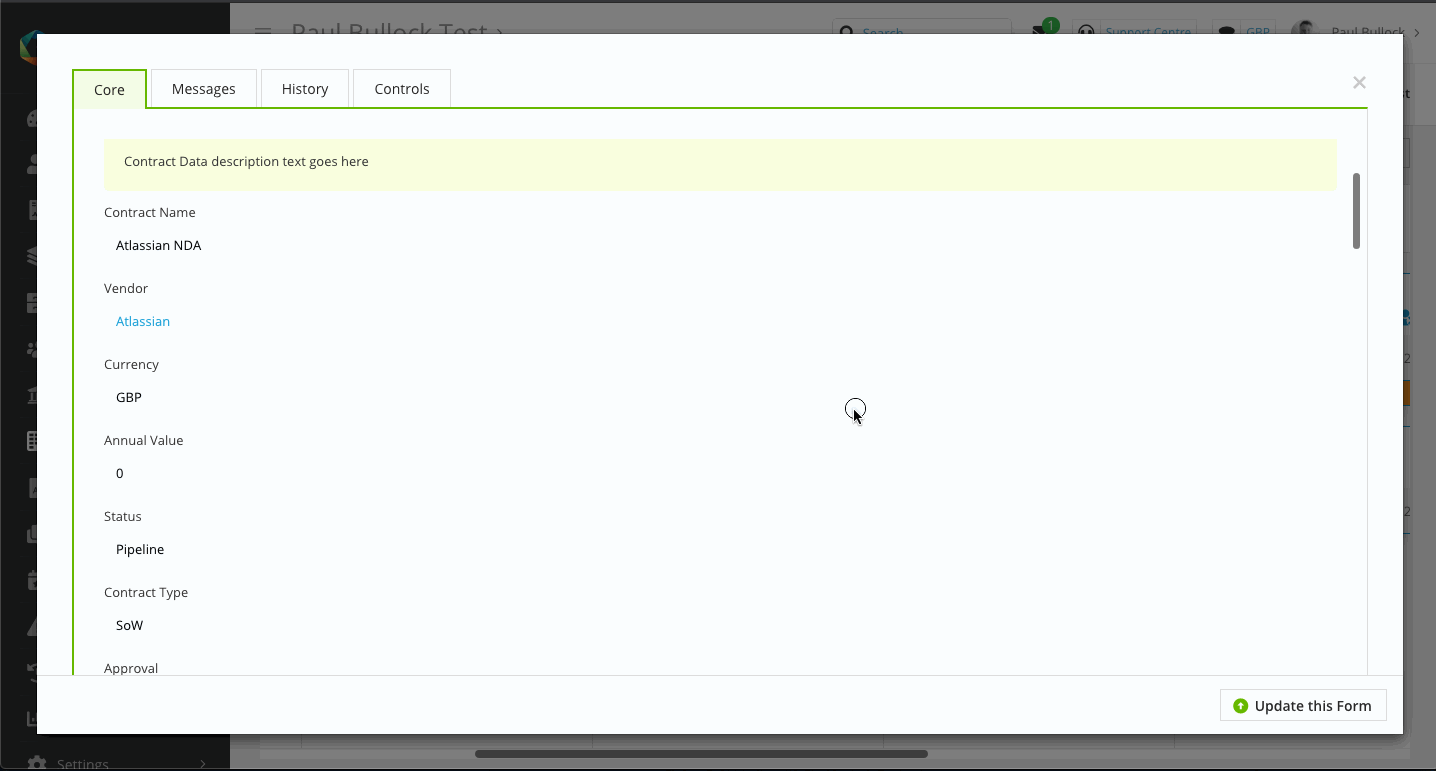 What does this mean for you?
This means that the views don't change as much visually when updating a form, allowing for an easier comparison between both views.
4. Multi-line Text Custom Data Fields
We have increased the character limit on our multi-line text entry fields from 2,000 to 20,000 characters. To enable easier writing and reading of longer pieces of text we have introduced a number of markdown controls for these fields as well.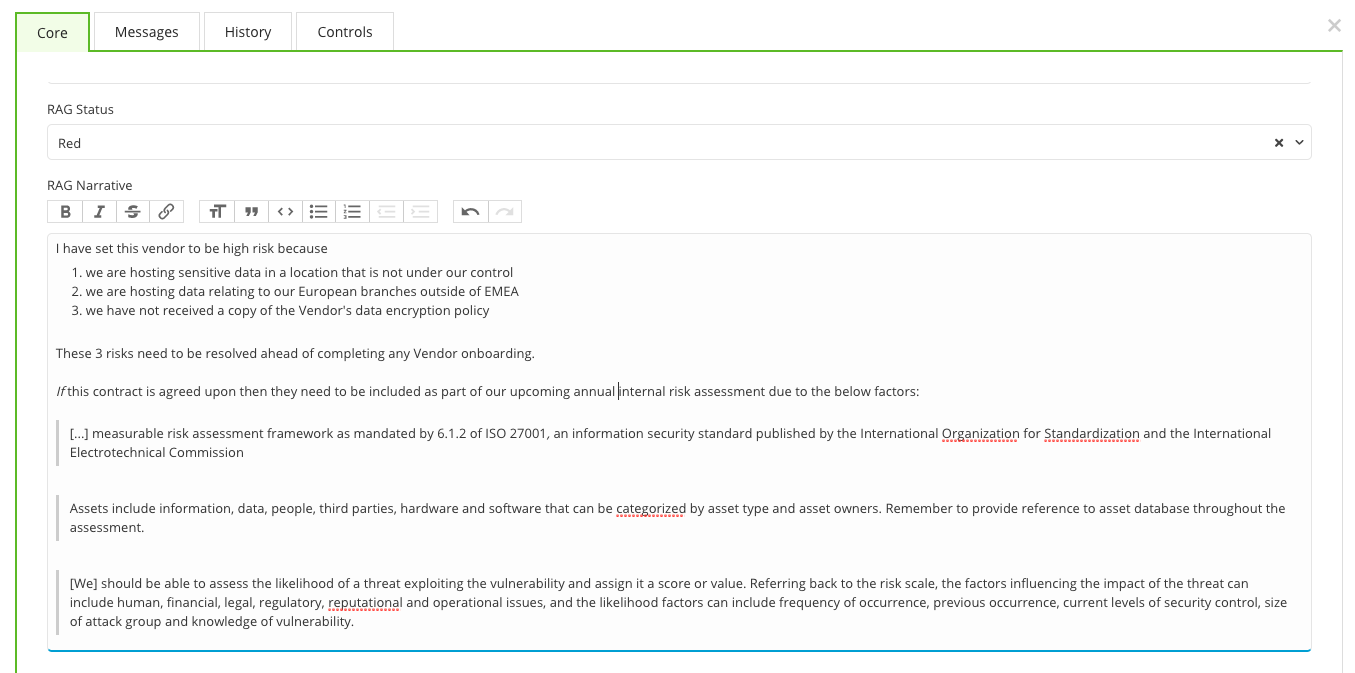 What does this mean for you?
This means that you can include longer statements when filling out these fields and you can also include various formatting such as bullet points and italics using the controls that are above each field.
For more information on these latest features, please contact your Customer Success Manager.