The latest enhancements to Gatekeeper
1. The Gatekeeper Ideas Forum
You now have the ability to submit ideas and feedback for improving Gatekeeper, directly from within the application. The Ideas Forum will be visible to all customers, as well as the Gatekeeper Product Team, and will be used to help shape the product roadmap.
What does this mean for you?
You can express feedback, suggest enhancements and vote on existing ideas that are important to you and your organisation. You'll also be able to view trending product suggestions and check out our continually-evolving roadmap.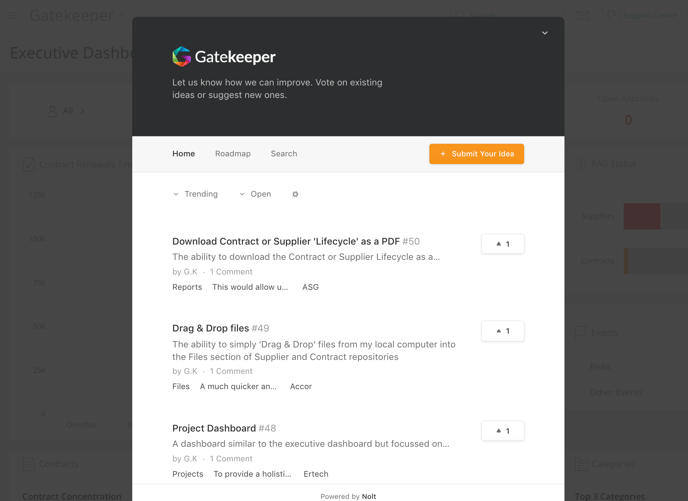 2. Workflows - Manual Archiving of Cards
Workflows have been enhanced to provide users with the ability to archive cards manually. These cards are then stored in an archived cards list, allowing them to be later unarchived and returned to their previous workflow and phase as required.
What does this mean for you?
This gives users the ability to tidy up workflows with large numbers of old or unused cards but removes the need to completely delete the cards and their content.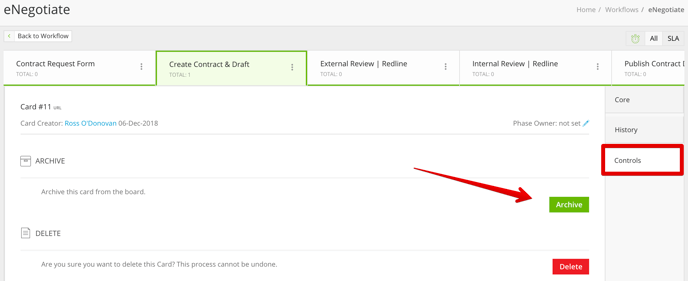 3. Workflows - New User Type
Workflow permissions have been enhanced to introduce a new user type called a Local Workflow Collaborator.
Set at the workflow level, this gives the chosen user access to view and open all cards on a board but does not allow them to complete any actions within the cards.
What does this mean for you?
A good example would be for auditing purposes, if it was essential to provide a user from Legal or Compliance with access to view all cards but to restrict them from being able to carry out any actions.

4. Ability to rename Categories and Events
Users now have the ability to rename both the Categories and Events classifications in the left-hand navigation and throughout Gatekeeper.
What does this mean for you?
This gives users further flexibility to bring their own terminology into Gatekeeper and ensures consistency across the business. It will also help new users to quickly familiarise themselves with Gatekeeper and adopt it more easily.
Update these classifications under Settings > Navigation

5. Spend Module - New Dashboard
The Gatekeeper Spend Module has a new dashboard, which displays at a glance the breakdown of your organisation's overall spend activity.
What does this mean for you?
This helps users monitor and identify at a glance the areas of their organisation's spend that require attention. Users can easily see spend broken down by forecast vs actual, direct vs indirect, spend via category and spend under contract, making it more straightforward to take timely and decisive action.
We look forward to hearing your feedback on these latest updates and make sure you take a look at the Ideas Forum to see what's being worked on and prioritised at the moment.