The latest enhancements to Gatekeeper
1. eSign - Floating Signature
One of our most requested features has been to add Floating Signature to our eSign feature and we are delighted to announce that it has been delivered. You can now predetermine where the Signature and the Signer's details will be placed on the contract by inserting and then dragging and dropping the associated fields to the selected areas. This includes eSignature, Name, Title and Date fields. The fields are colour coded for clarity and are compatible with all advanced features of our eSign solution including multiple signatories, signing order and custom messages.

We have also added a new daily reminder email for outstanding Signature requests.
What does this mean for you?
Choosing where the Signature will be placed on the contract helps to maintain the original contract format and layout while providing you with the ease and flexibility of an eSignature solution.

Our new daily reminder email will ensure all parties follow up on documents they need to sign and requested singers until the eSign process is complete. Click here to learn more about eSign and placing signature fields in our Help Docs area.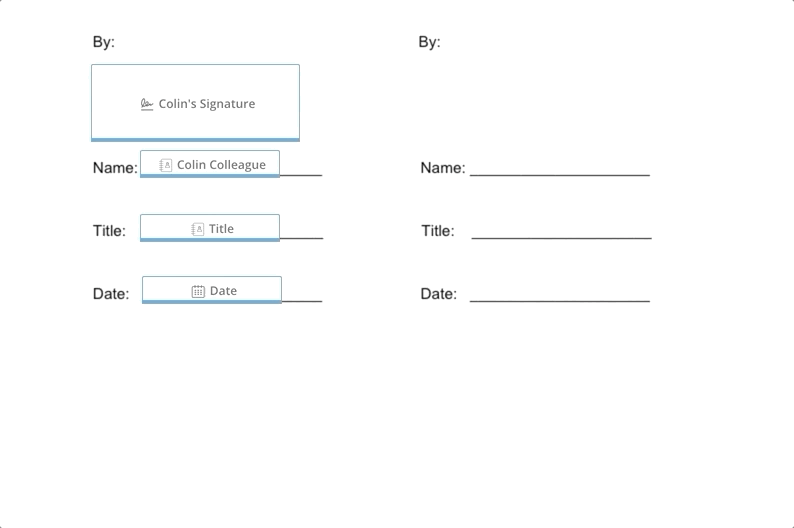 2. Files - Upload New Versions Of Files
We have now introduced the ability to upload new versions of core files. All previous versions of the files are retained and can be viewed and downloaded. A description field is also available to provide context for the newly uploaded version.
What does this mean for you?
This enables you to update files and documents that require amendments whilst preserving the previous versions for audit purposes. To read more about file options in our Help Docs area, click here.
3. Contracts | Mark File As Master Record
Files associated with contracts can now be marked as the Master Record for that contract. In addition, you can deselect a file as the master record and assign another file in its place.
What does this mean for you?
Occasions may arise where a Master Record document may need to be substituted or reassigned. You now have the ability to do so. For more information, click here.
4. eNegotiate - Merged Fields View
eNegotiate has been expanded to provide you with an overview of the contract template handlebars that have and have not been merged during the contract draft creation process.
What does this mean for you?
You will now see at a glance if the contract template or the contract metadata is inaccurate or missing while you create the contract draft. More details about this new contract draft review tool, visit our Help Docs area by clicking here.