1. New Best Practice Workflow Templates: ESG and NDA

Take Control
Following the March update on our "Best Practice Workflow (BPW) Template Library", we're delighted to share that we've added two new templates.

If you aren't familiar with these BPW templates, they are pre-built workflow templates designed to simplify workflow creation and support your digital process transformation with the most powerful workflow features.
ESG (Environment, Social, and Governance) BPW Template

An increasing number of companies are making decisions based on the impact they have on the planet. This growing trend has created a unique opportunity for vendor managers to drive sustainability, not just within their own organisations, but also throughout the entire supply chain.

To support businesses in integrating ESG factors into their operations, we've developed this powerful BPW template. The ESG workflow is designed to engage vendor users through the Vendor Portal, where they can complete a questionnaire to facilitate ESG reviews.

By leveraging this workflow, you can drive sustainability, promote responsible business practices, and align your supply chain with your company's ESG goals. It's the perfect solution for businesses looking to make a positive impact on the planet while improving their overall operations.

For more information on how to configure this workflow, please refer to this Knowledge Base article.
Touchless NDA (Non-Disclosure Agreement) BPW Template



We often hear from customers about their challenges and concerns. Two common issues that we come across are the desire to reduce workloads and the need to maintain audit-ready processes.

We've designed this BPW template to tackle these challenges head-on. It eliminates the time-consuming and repetitive tasks associated with creating and signing NDAs, such as data entry and document handling. This frees up valuable time for you and your team to focus on more important and strategic activities.

The workflow also provides a reliable audit trail. Every step of the process, including redlines, approvals, and signatures, is tracked and recorded. This means you can easily demonstrate compliance and have peace of mind knowing that your business is audit-proof.

For more information on how to configure this workflow, please refer to this Knowledge Base article.
2. Rename Uploaded Files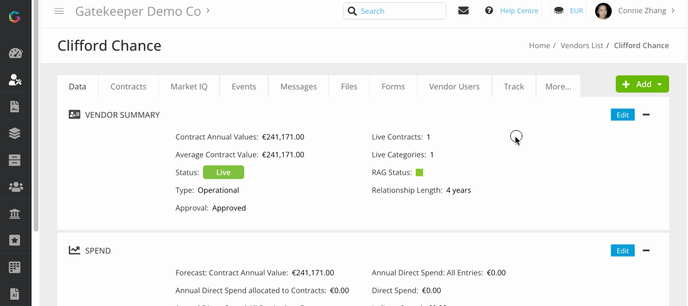 Restore Visibility
After hearing so many requests to change the name of a file that has already been uploaded, we've added this feature and now you can organise your files more conveniently.

By renaming files, you can keep the file names consistent within the repository and easily identify what each file is about. You can also upload files much faster with their existing names and make any necessary name changes later on.

To rename a file, simply click the 3-dot ellipsis menu, select the "Rename" option, and type in the new name. The "View History" button allows you to trace the changes made to file names, making it handy for auditing.

For more information on renaming uploaded files, please refer to this Knowledge Base article.

3. Lock Values in Workflow Forms

Take Control
We've launched the ability to 'lock' dropdown values when configuring a workflow form. This feature gives you better control over dropdown options, while offering a cleaner and focussed experience for form requestors.

Choose the values that you want form requestors to see (or not see), whether it's a core field like contract currency or a custom data field that you've created. Locking values will automatically hide the options that aren't relevant to the workflow being configured. This saves your users from scrolling through a long list of possible options.

To learn more about locking and unlocking values, please refer to this Knowledge Base article.
We Think You'll Also Love

⚠️ Export Risk Scores: We've updated the export function for Risk Module users to include the Risk Scores when bulk exporting. This makes it easier for you to report on risks by vendor, type or category and prioritise risk strategies.

👮 Mandatory Registered Address: Company registered address is now mandatory on all Touchless NDA workflow forms. It means new vendor records are automatically updated with this information. For additional convenience and accuracy, you can also dynamically insert your counterparty's registered address as a handlebar in contract templates.

🤩 Enhanced Workflow List View: We've added "contract" and "vendor" suffixes to column headings, making it easier to distinguish data types visually. You can filter columns to show or hide specific data, and create custom list views tailored to your reporting requirements.

🔘 "Add" Button Redesign: Add a new business partner. Upload a new file. Import Spend. These are all the things you can do using the "Add" button across Gatekeeper. We've given it a little TLC to make it look nicer and more intuitive.
Coming Soon: Custom Tabs
Soon, you'll be able to create custom tabs for your contract and vendor records, and segment custom data groups into dedicated sections. It will make data access a lot faster and more intuitive, giving you complete control over how you organise your information.