This month, we've extended the Workflow card ownership feature to automatically assign multiple ownership, and more!
1. More Flexible Multiple Workflow Card Ownership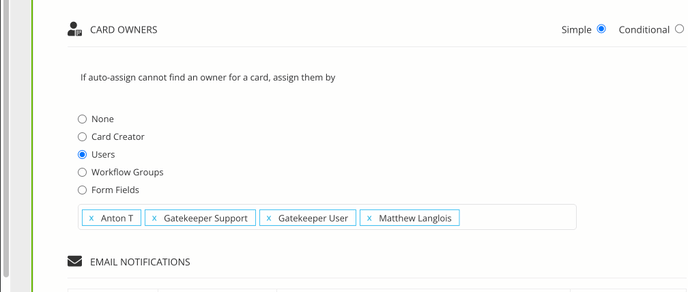 Following on from last month's multi-ownership feature, it has now been extended to automatically assign card ownership. To further enhance this, the auto-assign role 'member of Workflow Group' has been replaced with 'Users' to offer more flexible assignment.

The conditional Card Ownership rules process now adds all groups with matching conditions instead of applying the first matching group sequentially. All parallel approvers are automatically added as Card Owners to a phase.
What does this mean for you?

(Workflow Administrators only)

When a Workflow card lands on a phase, you can assign a combination of Users, Workflow Groups, and Form Fields to be the joint owners.

Any parallel approvers will now automatically become the Workflow card owner, which simplifies configuration. Conditional parallel approvers will be assigned when all the conditions are met.

It gives you peace of mind that ownership will always be correctly assigned, whether a card is transitioned to another phase or moved manually on your Workflow board.

Owners will be displayed in the card history, providing complete visibility into who was responsible for which card on a given phase.


2. Create New Events In A Pop-Up Window
When creating a new Event, you will see a pop-up window that appears on top of your current view, instead of being redirected to the Events tab.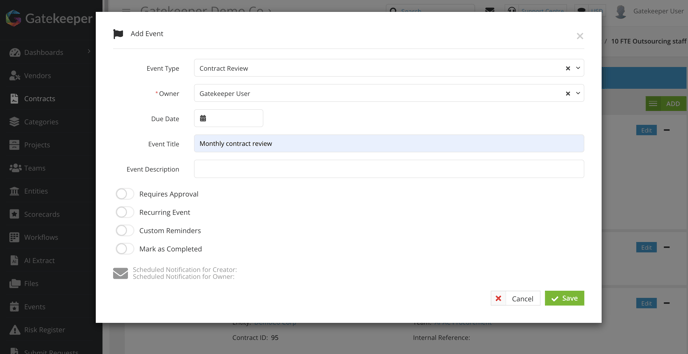 What does this mean for you?

Notifications enable you to set reminders ahead of contract end dates, renewals and other related events. In Gatekeeper, notifications and alerts are referred to as Events.

Our latest update allows you to create a new Event in a pop-up window, without having to go through the Events tab.

This way, you can immediately get back to what you were doing, once an Event is added. We've also improved the layout to give you a cleaner and minimalist look.
3. Custom Data Visual Improvements

We've added "zebra stripes" - faint shades - to alternate rows, so you can easily differentiate between fields and values. All values will be shaded and the names of the fields will have no shading.



What does this mean for you?

Custom data is metadata relevant to your business needs that doesn't fit within the Core Data Model, e.g. additional categorisation of your vendors.

We looked at how custom data is displayed in Gatekeeper and found an opportunity to improve it visually. This makes glancing through your contract or vendor custom data much quicker.