Welcome to our first-ever Success Hours webinar.
In this session, we looked at 5 recently-launched features, how they're being used by some of our customers and the benefits they're able to drive from them.
Webinar Q&A
Q: For a user to access the Employee Portal, do they need to be added to Gatekeeper in advance?
A: Not necessarily!
For our Enterprise customers, you can leverage Gatekeeper's Just-in-time user provisioning
For this feature, all you need to do is specify the email domain/s which qualify as valid Employee users from your organisation and Gatekeeper will use these to automatically create profiles for them when they attempt to log in for the first time
This means you don't have to spend time manually adding in new users whenever your company hires new employees!
If you wish to upgrade these users from "Employee Portal Only" access to "Full Internal Access" Gatekeeper accounts later on, you can do so with no issue or loss in user audit history

Q: Once I've added Market IQ to a vendor, can I remove it later?
A: To remove a vendor already linked to Market IQ, e.g. if it's the wrong vendor or if you no longer wish to track them, you can scroll to the bottom of the Market IQ page and click 'Remove Synchronisation with CreditSafe'.

Q: Can I share my saved view with someone else?
A: No, this is not currently possible but we're working on it. Stay tuned!

Q: Is there a way to see all expiring files across the system? Currently, I have to manually find these and start a workflow when they are about to expire.
A: Yes - in your Files view (which you can access from your left-hand navigation menu), there are predefined filters across the top of the page to show files which have expired ("Overdue") and those which are expiring in the next "30 Days" & "60 days"
If you're looking to automate the process of managing these expiring files, you can create a workflow with an automated "Trigger" which will initiate the workflow for you at a predefined interval of your choosing (e.g. "When File Expiration Date occurs in 14 days,")
Coming soon to our Best Practice Workflow Templates Library: 🛠 Create Your Own: File Expiry Workflow

Q: As part of onboarding, we also look at InfoSec, Business Continuity, Enviro / Geo Political factors. Will you be pulling this info in Market IQ in the future?
A: We are currently looking at evolving the Market IQ offering to Cyber, AML and Compliance, as well as looking at how we can support ESG requirements.


Q: Can you also allow for the the "home page" for an individual user to be changeable? At present you can only pick a dashboard. Can you allow individual users home page workflows for example.
A: Currently, only Gatekeeper's standard "Dashboards" can be set as the default when logging in
However, if you or one of your users regularly visits a specific Gatekeeper page and wants to make it easier to access, you can leverage the below tip:
💡 Gatekeeper will remember specific details of any url while logging in even after being redirected through the authentication page 💡
For example,
If I am logged out and head to us.gatekeeperhq.com/GKID/workflows (or some other page), after completing the login process, I will be automatically redirected to the workflow menu (not my default dashboard)
See below example where a user bookmarks and follows a link to the Contract Approval Workflow...after logging in, they are not taken to one of the default dashboards, they arrive directly at the Kanban board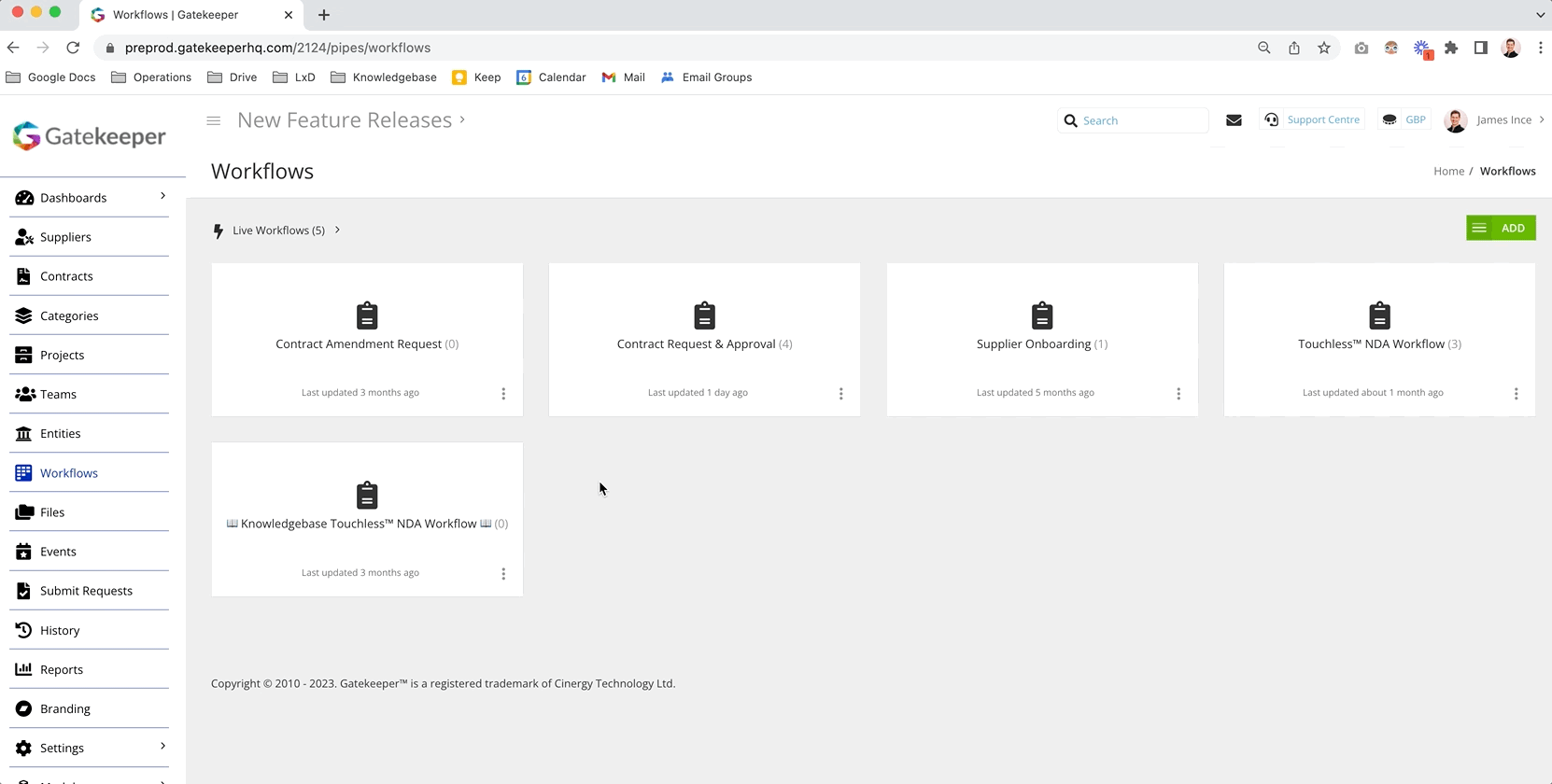 You can leverage this by simply "bookmarking" your favourite Gatekeeper pages for easy access. This way, when logging in, they'll be the first thing you see!
Q: Can a user change their default workflow view to the list rather than Kanban?
A: Saved workflow views are due for release in February 2023. With this update users will be able to stored filtered workflow views (in Kanban or List format)
Please reach out to your Customer Success Manager if you need further information, or assistance to set up your Workflows.