Our Spend Dashboard displays a breakdown of your organisation's overall spend statistics at-a-glance.
In this article:
Accessing the Spend Dashboard
Once the Spend Module is enabled, the Spend Dashboard will become available within the Dashboard section of the left-hand navigation menu.
Note: The Spend Dashboard is visible to users assigned the "Administrator" role. It will also be present for users with the "Collaborator" role and permissions set to "All".
Selecting this navigates you to the Spend Dashboard itself, where a number of charts and KPIs are presented. As with all charts within Gatekeeper the use of colour is prevalent to depict warnings etc. and all charts can be drilled into to see more of the data beneath.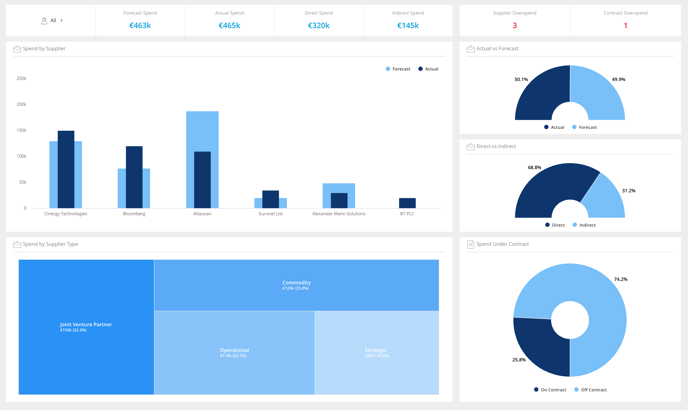 Spend Report and KPIs
Within the centre of the Spend Dashboard is the Spend by Supplier chart. This includes any Supplier with Actual spend, which is captured from each Live contract record as Annual Value within the 12 month date range. The Forecast vs. Actual spend is indicated clearly through colour-coded bars. This chart is automatically generated from the aggregated spend information against each Supplier.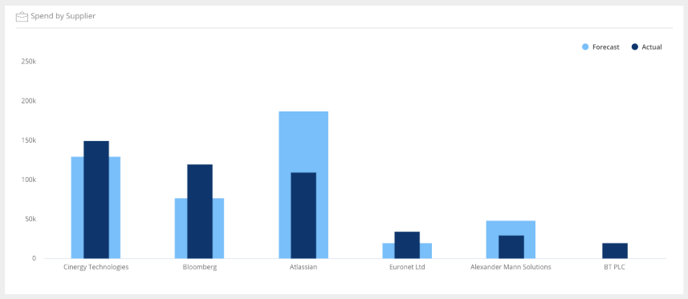 Additionally, within the Spend Dashboard are the following spend widgets. These provide a view of various cuts of the data, offering a clear visual representation for reporting purposes. Again, these charts can be drilled into for further detail.