This article intends to walk you through the Gatekeeper Messaging feature within Workflows, improving collaboration both internally & externally whilst your cards are in progress.
Note: This article assumes you have prior knowledge of Gatekeeper Messaging.
If you are new to this feature, we recommend starting with the below article:
---
Sections in this Article
Why use messaging within Workflows?
Locating messages within a Workflow Card
Whom can I message within Workflows?
What can Message recipients see?
Attaching Messaged Files to a Workflow Cards
---
Why use messaging within Workflows?
For most Workflows (if they've been designed & configured thoroughly), all the necessary stakeholders in a process should be automatically notified by Gatekeeper that they have some action to perform.
Subsequently, all the necessary steps for them to take should be clearly laid out in the form of Approvals, Form Updates, Draft Edits & Submissions, etc
However, In many cases during on ongoing process, you may need to ask for additional information or documentation, clarify some of the information that was submitted, or just get sign off from a extra stakeholder...
...with Workflow Messaging this can be done without needing to move the card to a new phase (or reconfigure the workflow!)
Using messaging within Workflows allows you to collaborate with Internal (& External) Users of Gatekeeper, all within the Workflow card itself
💡 Keeping communications in one place means that:
a) Participants in the message discussion can have access to all the relevant data & documents so no context is missed
b) The discussion can easily be revisited way later on - no more searching through emails from months ago or scrolling upwards through pages and pages of Slack messages!
c) Any attached documents provided during the discussions can be linked to the associated Contract/Vendor records, allowing you to fully leverage Gatekeeper as your Central Source of Truth
---
Locating messages within a Workflow Card
All message threads relating to a card are stored in a tab against the card itself. You can access existing message threads & create new messages by clicking on the card and selecting the "Messages" tab: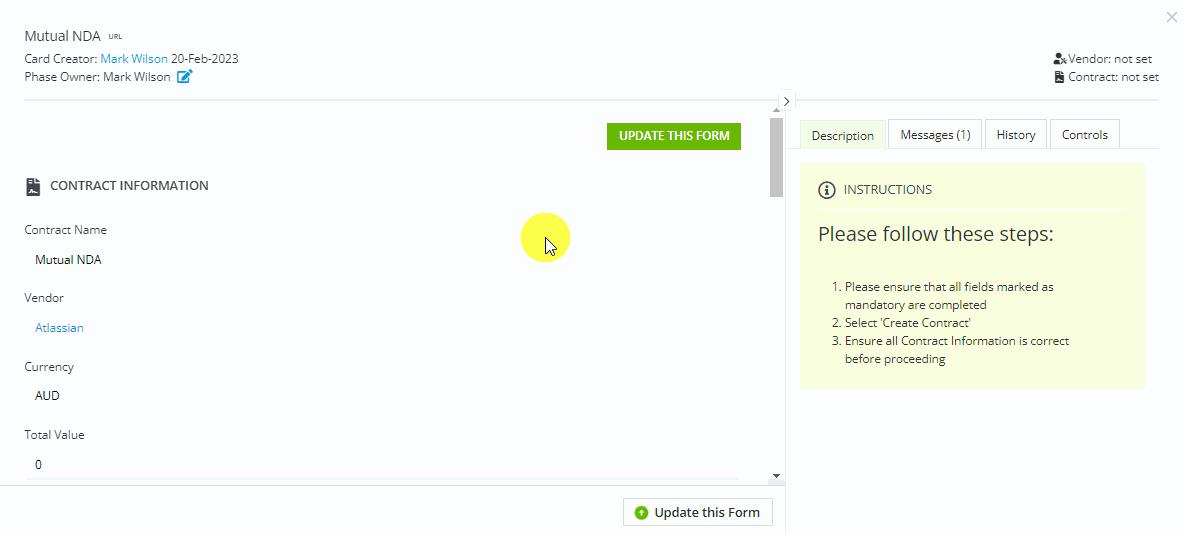 ---
Whom can I message within Workflows?
The recipient list you can select from when sending a message is generated from the set of Internal users and - if a Vendor is associated with the card - any Vendor Users associated with that Vendor.
This is to ensure that only the relevant stakeholders for the process can be contacted and removes the chance to accidentally contact Users not involved in that contract/vendor relationship!
Whom can I tag/include in a message thread?
When new message recipients can be added to an existing thread also varies based on user permissions and who owns* the message thread
*Owns, meaning who initiated the message thread
I am a:

On a Thread started by me, I can tag...

On someone else's Thread, I can tag...

Global Administrator + Workflow Administrator
Any Internal User
Any Vendor User where the vendor is linked to the Card
Any Internal User
Any Vendor User where the vendor is link to the Card
Workflow Administrator
Only people already included in the message (i.e. I cannot tag/add new message recipients)
Workflow Collaborator
VP Module Administrator
EP Module Administrator
Phase Owner
Phase Collaborator
Message Participant
EP User / Card Creator
Previous Card Owner
Vendor Portal User*
Vendor Portal Administrators
Internal Vendor Owners
Normal Internal User
With no visibility/access to a card, a normal user would not be able to see/initiate message threads for a card
*Vendor Portal Users will not be able to see a card (& therefore initiate message threads) until:
a) It has visited an Vendor Portal phase
b) They have been tagged in a message for that card
---
What can Message recipients see?
When a user is included in a Workflow Message thread, what they can see on the Workflow Card will vary depending on their permissions & how they have been included
If they could already see the Workflow card
Nothing will change, they will see all information from the Form & the Message thread
If they could
not

see the Workflow Card before being tagged

By default, they will only be able to see the basic workflow card information (Card Name, Card Creator, Current Card Owner) and the Message Thread on which they have been tagged: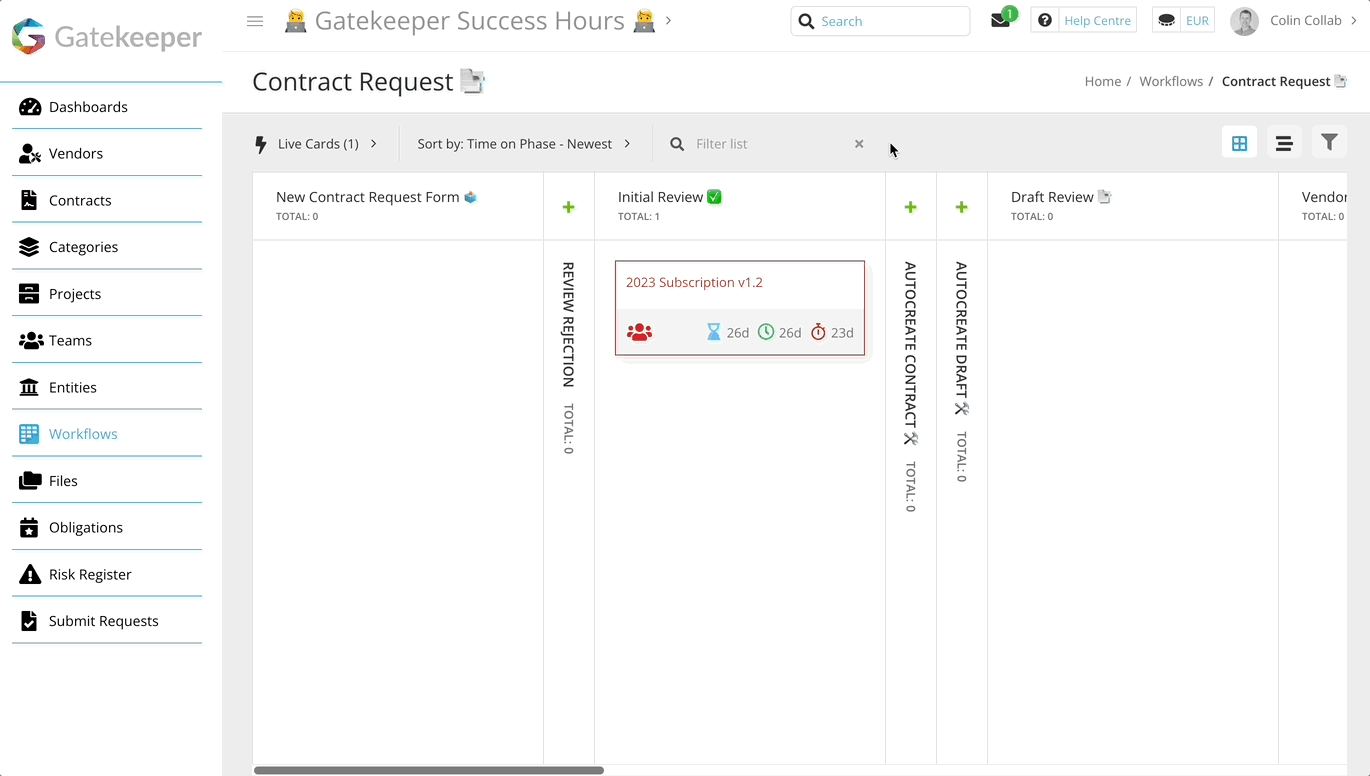 This is the default setting because Contract & Vendor management processes can often involve sensitive details - therefore we don't want this to be accidentally shared with the wrong people
If you want to override this default setting, when tagging a user, you have the option to grant these users access to the whole card, including all the currently visible Form data & attachments by checking the ☑️ Grant Collaborator Access box
For a walkthrough of how to grant collaborator access to the card, see the below video:
---
Attaching Messaged Files to a Workflow Card


When operating within a Workflow, there may be instances where a File has been sent via messaging that is required to be attached to the card.
In the below example, Mark has uploaded the latest copy of our Mutual NDA ready to be executed.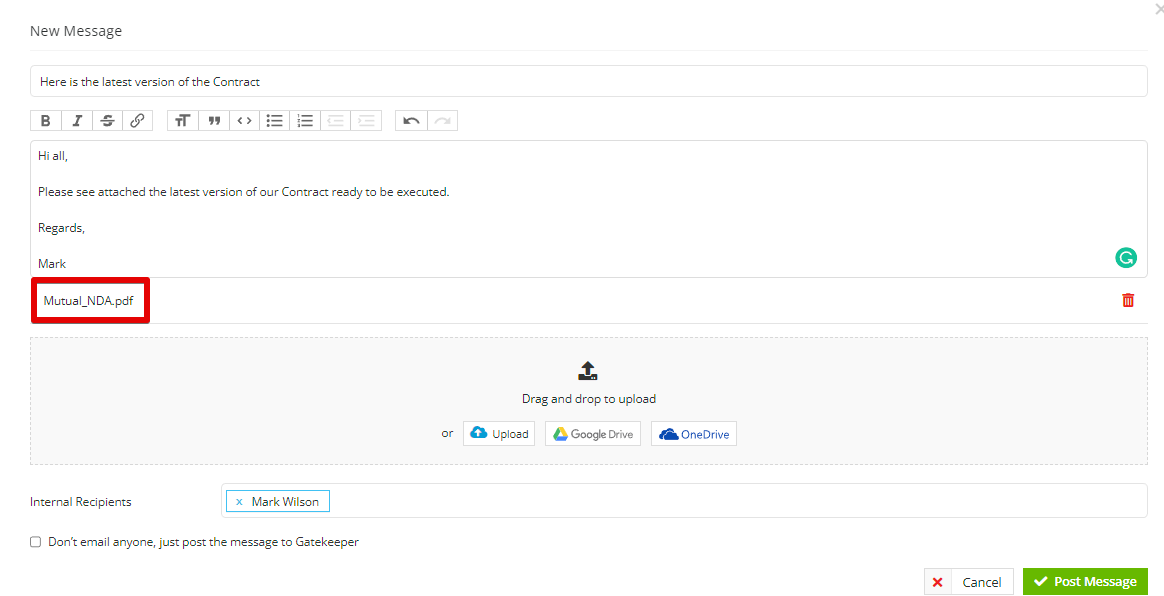 We can confirm that a file has been attached to the Message from the Workflow Form Splash Screen.

As an Administrator or Phase Owner, we can then open this message and select Move File.
Note: Moving a File requires a field within your Workflow Form with a field type of Attached File or Attached File with Expiry Date.
If the Move File icon is not present, there are currently no fields within your Workflow of these types to support the moving of a file from Messaging to the Form.
For further information on Field Types, please see our Knowledge Base Article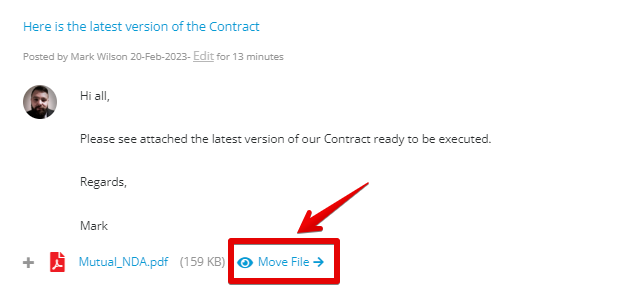 Selecting the Move File option will present us with the ability to move the File from Messaging to a corresponding File Attachment field within your Workflow.

---
Example use cases
Vendor Onboarding
Scenario: In the example below, we have a simple Vendor Onboarding process.
The Vendor submits their onboarding questionnaire and it goes through a few internal reviews (Vendor Management, Finance, Information Security, etc).
However, the Vendor Management Team is unsure whether one of the questions answered by the Vendor User is required by the Information security Team.
Solution: Rather than send the card back to the Vendor (meaning Vendor Management will have to stop their reviews of the other questions) or Approve & send it forwards (with the risk of it being rejected by Information Security), the Vendor Manager can simply send a message including both the Vendor User and a member of the Information Security team to clarify: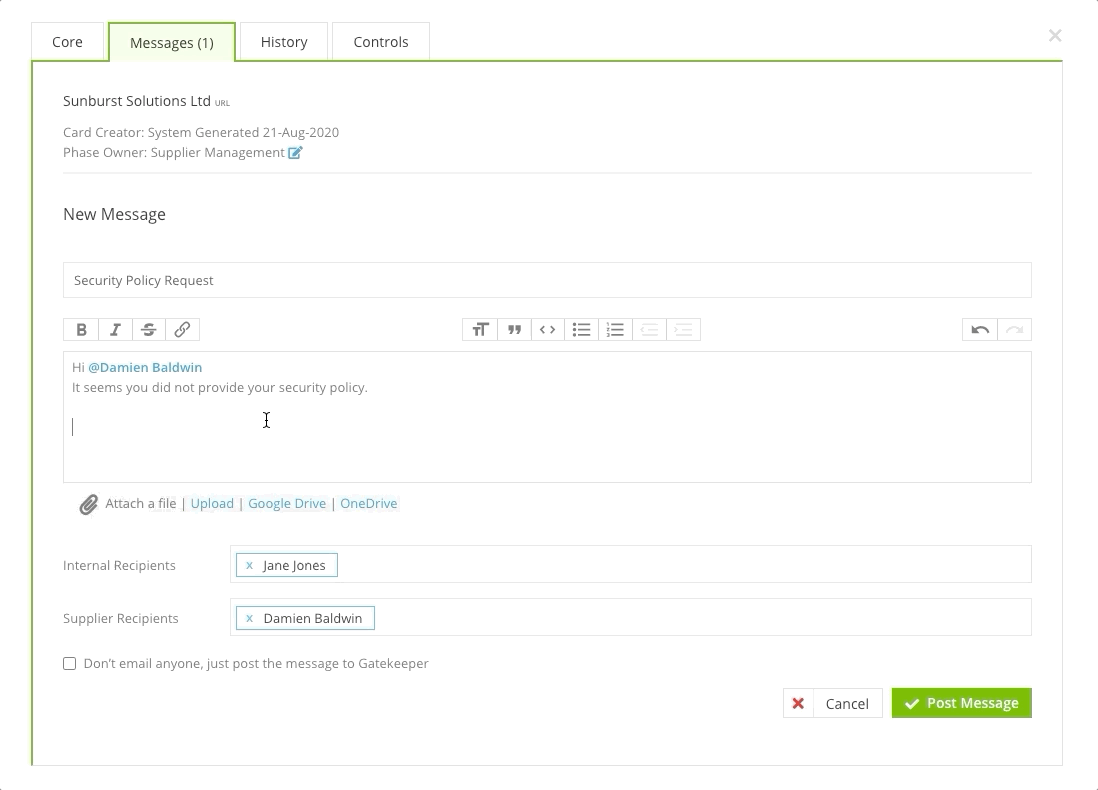 Below we can see the email that the Vendor User will receive and the options they have to:
Option a) Follow the link into Gatekeeper to respond in the message feature, or
Option b) Reply to the email which will sync through to the Gatekeeper thread automatically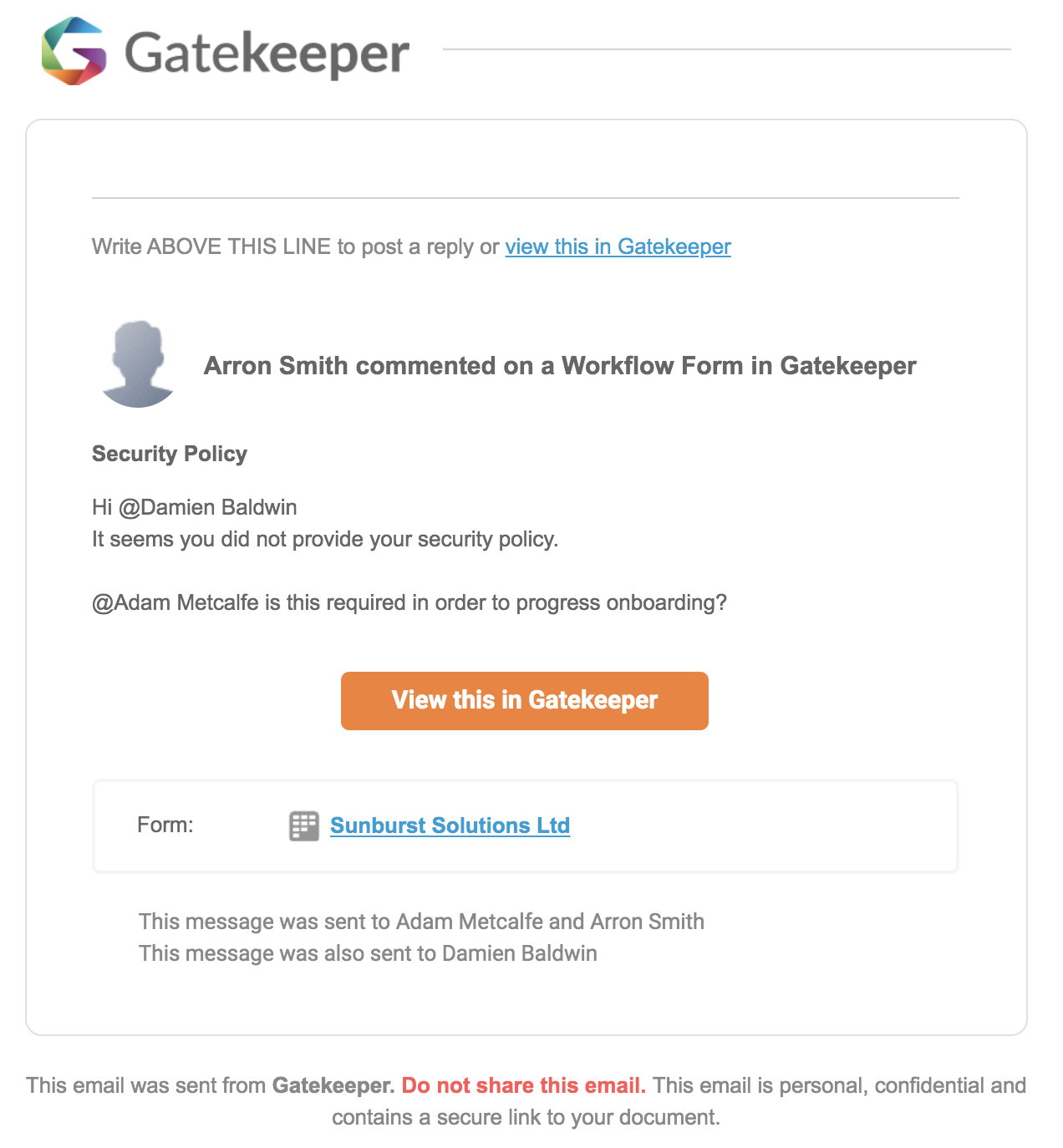 In this example, the Vendor user is also a Vendor Portal User so can log in to the portal to view the progress of their submission (and view or respond to any message too)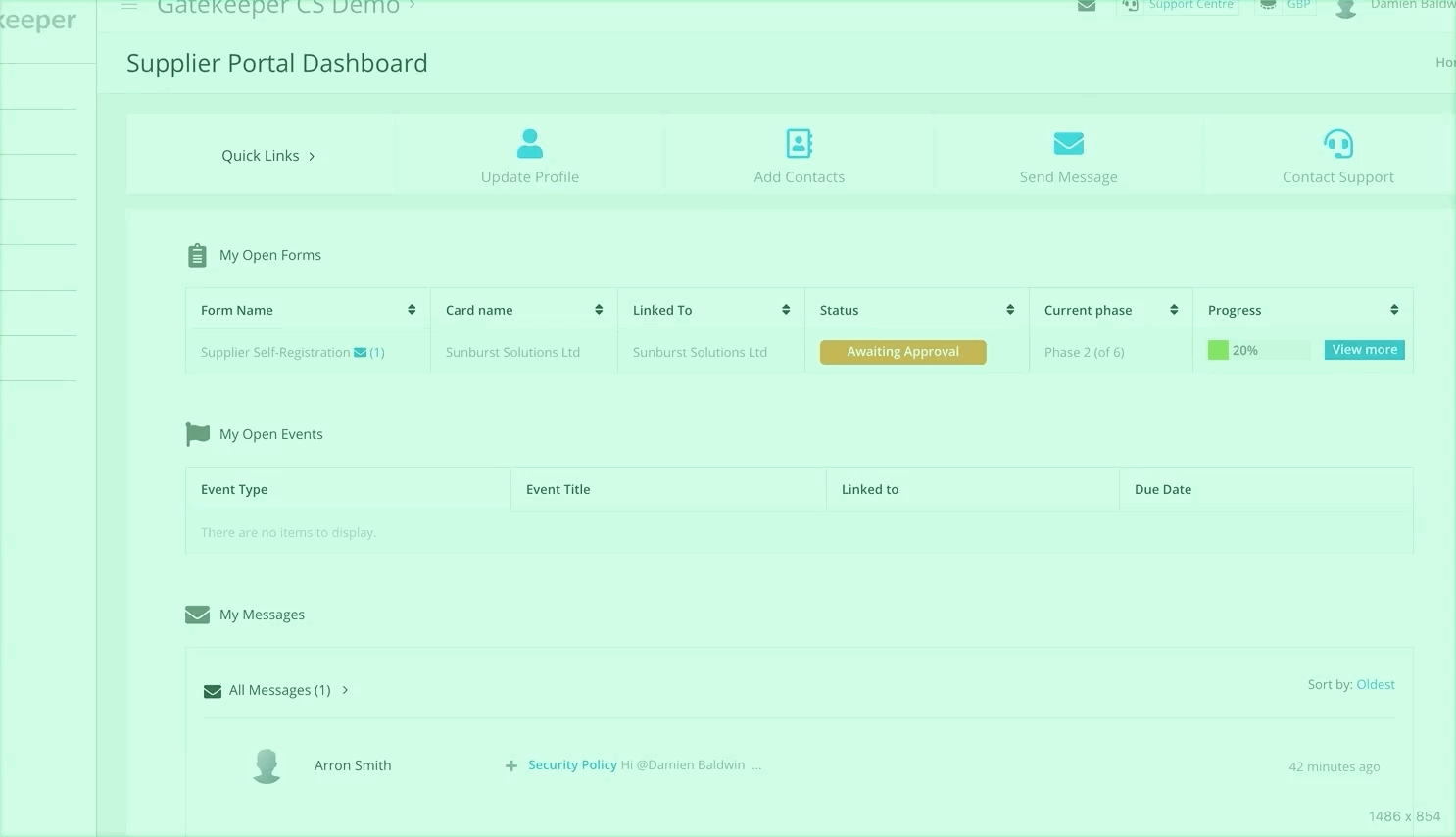 Contract Approval & eNegotiate
Scenario: In the below example we have a Contract negotiation workflow in which the Vendor has submitted a new version of the contract for the Internal Owner to review. In this scenario, the Vendor has amended the Contract to increase the payment term from 30 to 90 days and this requires sign off from a member of the Vendor Management team.
Solution: Rather than escalating the card to a formal review by the manager, the Internal Owner can simply message them via Workflow messaging to save time: