This month, we're back with more enhancements to the Workflow Engine and the ability to edit users in bulk!
1. Highlight Workflow Data Changes
When a new Workflow Form submission comes to be saved back to a Contract or Vendor in the way of an Update Action, it is now easy to see where data has been changed from what was previously on the record.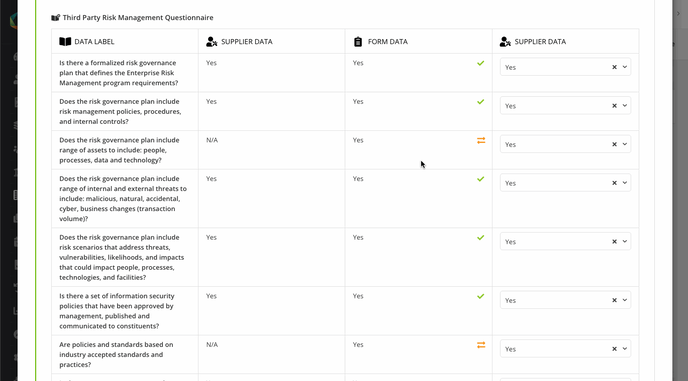 Each field now shows an icon indicating if it will stay the same, be updated or be removed when it is synced back to the Contract or Vendor.


What does this mean for you?
We've added some fresh new icons to the Workflow Form Data, so a quick glance will tell you what data or fields have been updated. Say goodbye to comparing two sets of data line by line. The icons will draw your attention to the most important changes and save you valuable time when working with long forms.
2. Personal Touchless Contracts™ Links
We have extended Self-Service Contract Automation to embed the Internal Sponsor for each contract from the very start of the process.
Any user can have their own Touchless Contracts™ link generated, which means Vendors completing a boilerplate contract are automatically associated with the relevant user that prompted the submission.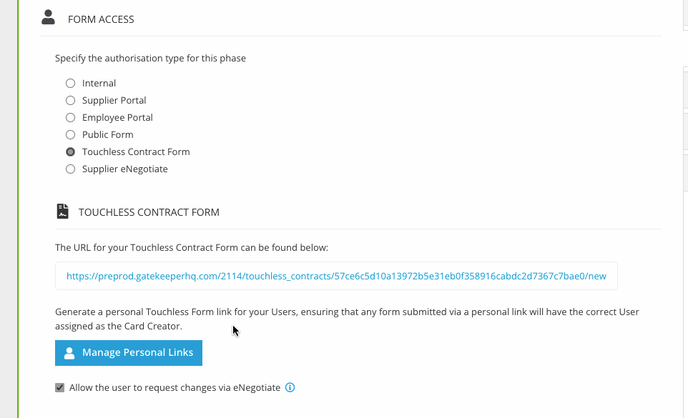 Employee Portal customers will be able to find and copy their personal Touchless Contracts™ link directly from the Employee Portal Dashboard.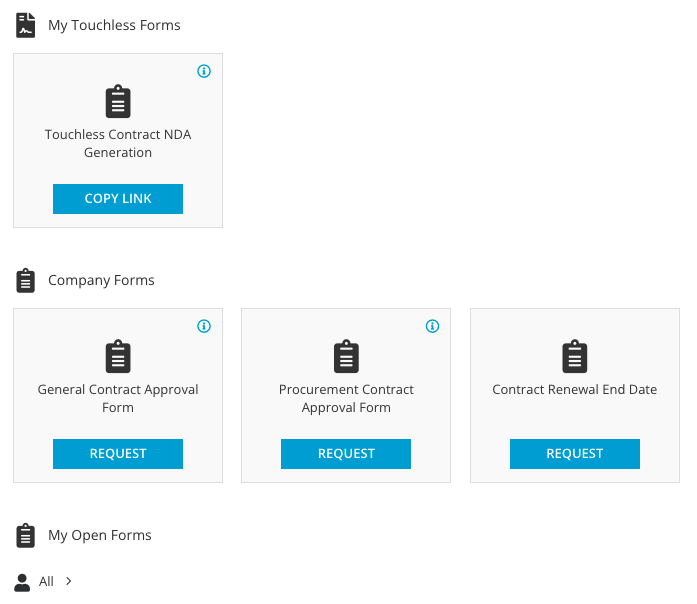 What does this mean for you?
This new way of generating customised links for users allows you to generate fully-compliant records ready for eSignature without lifting a finger. Gatekeeper will capture the requester as the Internal Contract Owner for any record generated via Touchless Contracts. Subsequent phases in your contracting process, such as create a new contract, will be fully automated.
Want to see what else Touchless Contracts can do to help you self-service contracts at scale?
Find out more
3. Move Workflow Cards To Any Phase
Inside a Workflow card's Controls tab, we have added the ability to move a card to another phase regardless of its current phase settings. Available to Workflow Administrators only, this grants the ability to bypass any current restrictions and move it to wherever the card needs to go.

What does this mean for you?
We've made it more flexible for Workflow Administrators to move a card between phases on the Kanban board, with the ability to bypass the transition rules. This allows you to easily skip certain phases that have been completed outside of Gatekeeper, or move a card back to a previous phase.
4. Bulk Export & Bulk Update Users
The User Management area has been updated with a raft of improvements designed to enable a smoother experience for User Administrators.
It is now possible to export your users' permissions to a CSV file, change the permissions levels via the exported sheet and then import it back in again.
We have also added the ability to bulk configure the following additional user settings:
eSign permissions
default and visible dashboard settings
portal administrators
weekly summary email settings
For more information on how to bulk export and import users, please see this dedicated article.
What does this mean for you?
As an Administrator of Users, you want to be able to update user permissions quickly and easily. When you have a large number of users that need access to Gatekeeper, updating them one by one is time consuming and bulk editing becomes essential. This is a convenient feature that allows you to make changes to multiple users at once.