For background please read the User Management guide.
There are three areas to consider when assigning the correct permissions to a User.
1. Role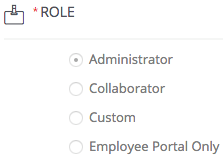 Administrators can Add, Delete and Edit data
Collaborators have restricted access but maintain the full range of Collaborative functions
*Custom - applies when RBAC is activated
**Employee Portal Only
* Included with all Enterprise plans **Applies when the employee portal module is activated
2. Role Permissions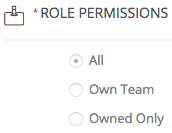 Choose whether the 'Role' applies to:
All - areas of Gatekeeper
*Own Team - the Team the user is a member of
*Owned Only - anything the user is assigned to be an Owner of
*Included with all Pro and above plans
3. Additional Permissions
This area enables a user to be provisioned with additional permissions.

Users
Enables a user to manage user access rights and permissions in Gatekeeper (including their own access)

Only available to users whose Role + Role Permissions = Administrator + All
Configuration
Please see our guide on the full range of Configuration available
In addition, this gives access to Gatekeeper Modules, which are:
Only available to users whose Role + Role Permissions = Administrator + All
History
Enables a user to access an unrestricted history of all user activity in Gatekeeper
Reports
Enables a user to run and export reports on all data within Gatekeeper